Meet Gretchen Ryan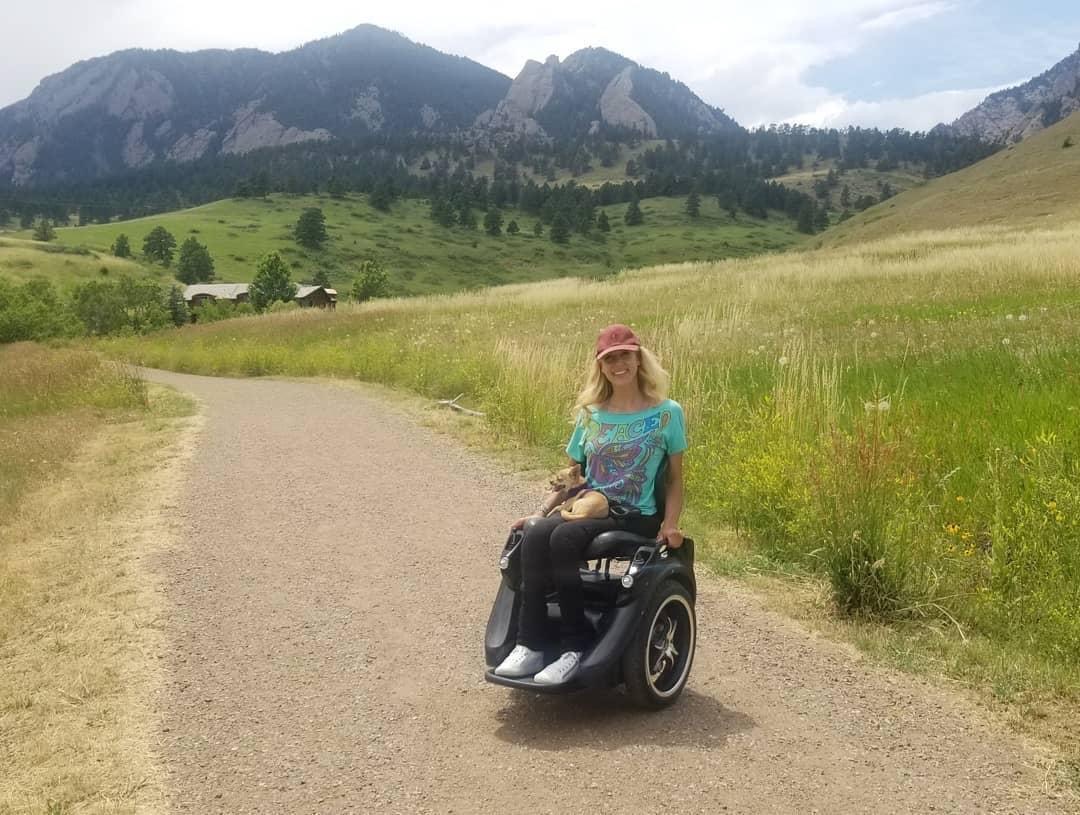 "Anywhere you go, you're a pioneer – chances are no Omeo has gone there before!"
Gretchen became one of the first Omeo users in the US after seeing the Omeo in a YouTube video about six years ago. She has been a pioneer for the brand ever since she got hers in 2018, taking her Omeo to the beach, playing pickleball at the park, having daily adventures around town, and even hiking in the foothills of the Colorado Rockies.
Instead of trying to keep up with her friends and family, now they have to keep up with her! Her adventures and won't-stop attitude have earned her the nickname "Hot Wheels" from her husband.
Favorite adventure with her Omeo: Blazing up a trail in the Rockies she hadn't been on in years, getting married in her Omeo, and riding along the beach, hand in hand with her husband.
Meet Josh Geddis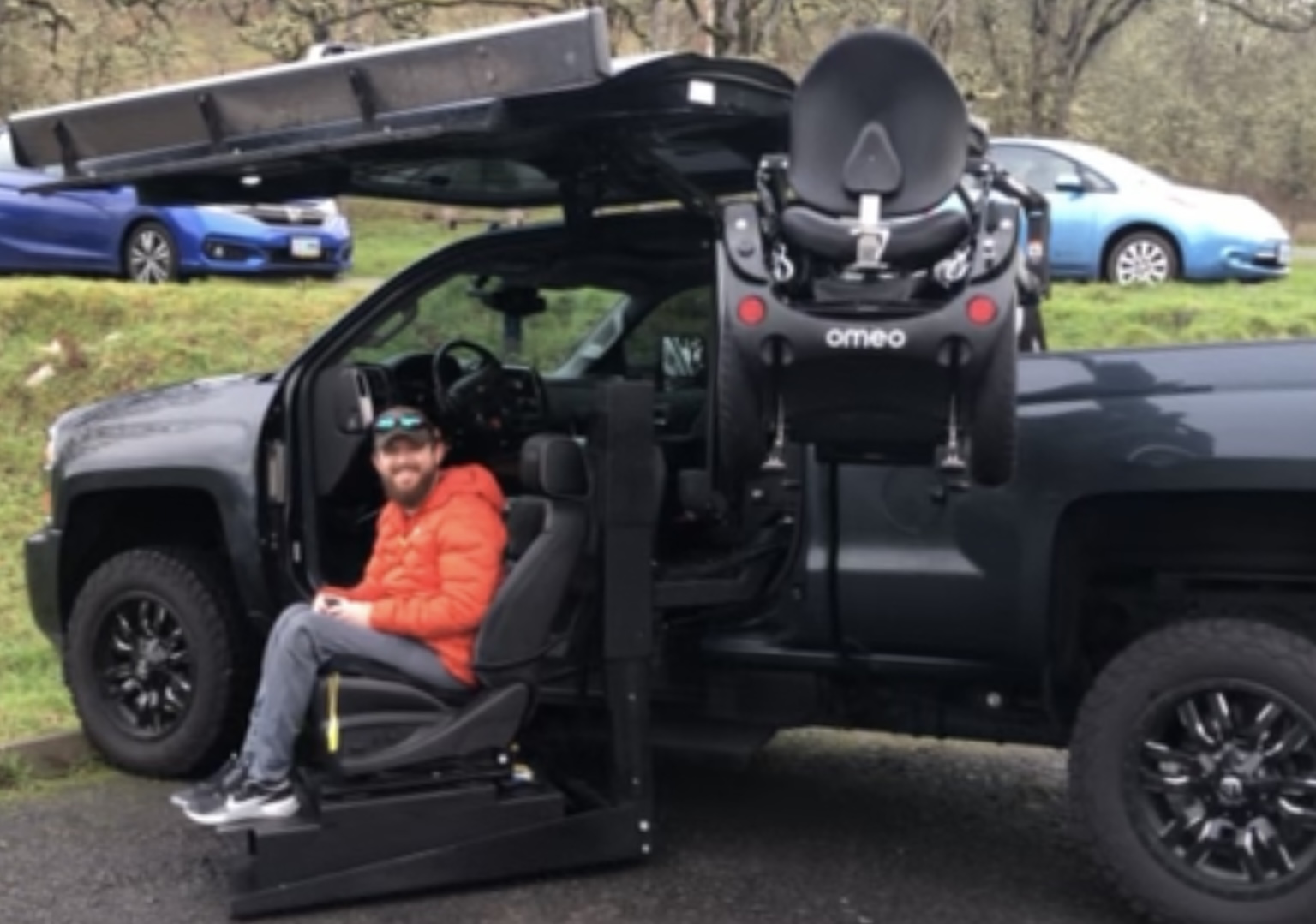 "I thought the Omeo would be just another boring power chair, but it's brought so much more fun and freedom in how it engages my body when I ride!"
Josh is a Navy veteran who suffered, in his words, a bad day at the office. His resulting T12 injury and many surgeries have had him navigating life with a manual chair ever since. Josh wasn't interested in using a power chair, as he found their passive movement tedious and preferred using his whole body whenever possible. It was moving through the deep gravel terrain at his son's competitive BMX tracks that had him looking at an Omeo to save his hands and shoulders after a long weekend at the races. Josh has two very active teens involved in sports, and with that comes various landscapes that aren't very wheelchair friendly. He's been using the Omeo to move through varying terrains at courses and playing fields that typically left his arms and shoulders feeling pained. Now he knows he can go hard all weekend long and still enjoy what Monday offers without fear of discomfort. 
Favorite Adventure with his Omeo: Josh loves taking his dogs out daily for walks and any time spent with his kids doing what they love! 
Meet Craig Smith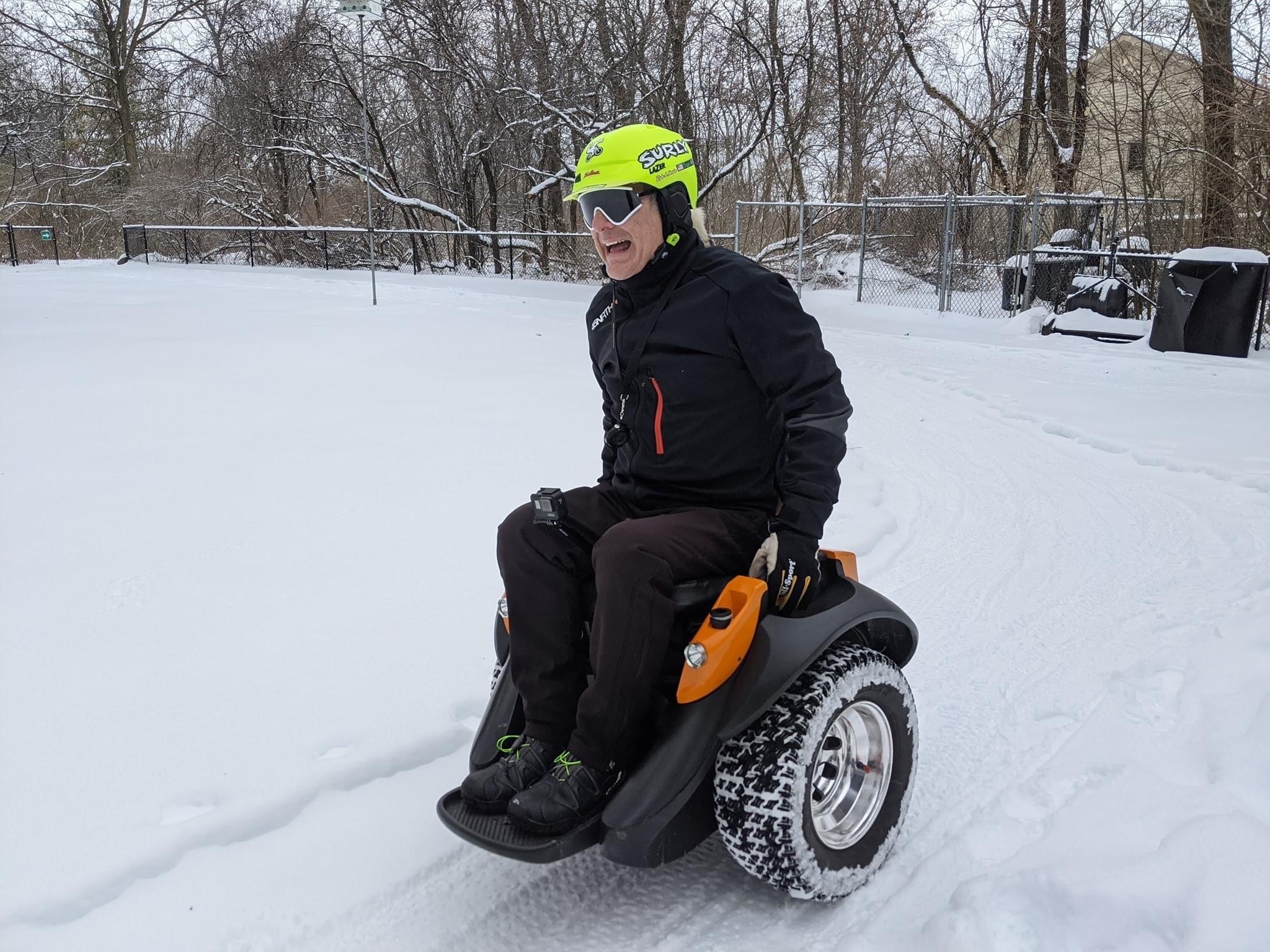 "My happy place is outside, and my Omeo makes sure that I stay outdoors and do what I love!" 
Craig is a musician, recording artist, and avid outdoorsman. When his degenerative muscle condition developed to a place where his time outside was going to be limited, Craig knew it was time to get an Omeo to keep him in his happy place. Fortunately, Craig has some great friends who help keep him outside, coming over to snowshoe a track around his acreage that lets him get out amongst the sticks even on the coldest days!
When he's not fighting the snow in his SNOmeo, if the weather is nice, he's trekking over to his music studio to work on his third and fourth albums with his band Neutral Earth, or he is taking an after-dinner ride with his partner Sue.
Craig is pure joy, finding positivity and solutions to everyday problems. He's one of our favorite innovators when it comes to Omeo user hacks and ideas, and we love seeing what he will come up with next when he's out with his Omeo!
Favorite adventure with his Omeo: Road trips up north and hitting a playground that had deep sand – he hasn't found a terrain yet that his Omeo can't handle. Next up is a trip to the beach!
Meet Tavi Karpilow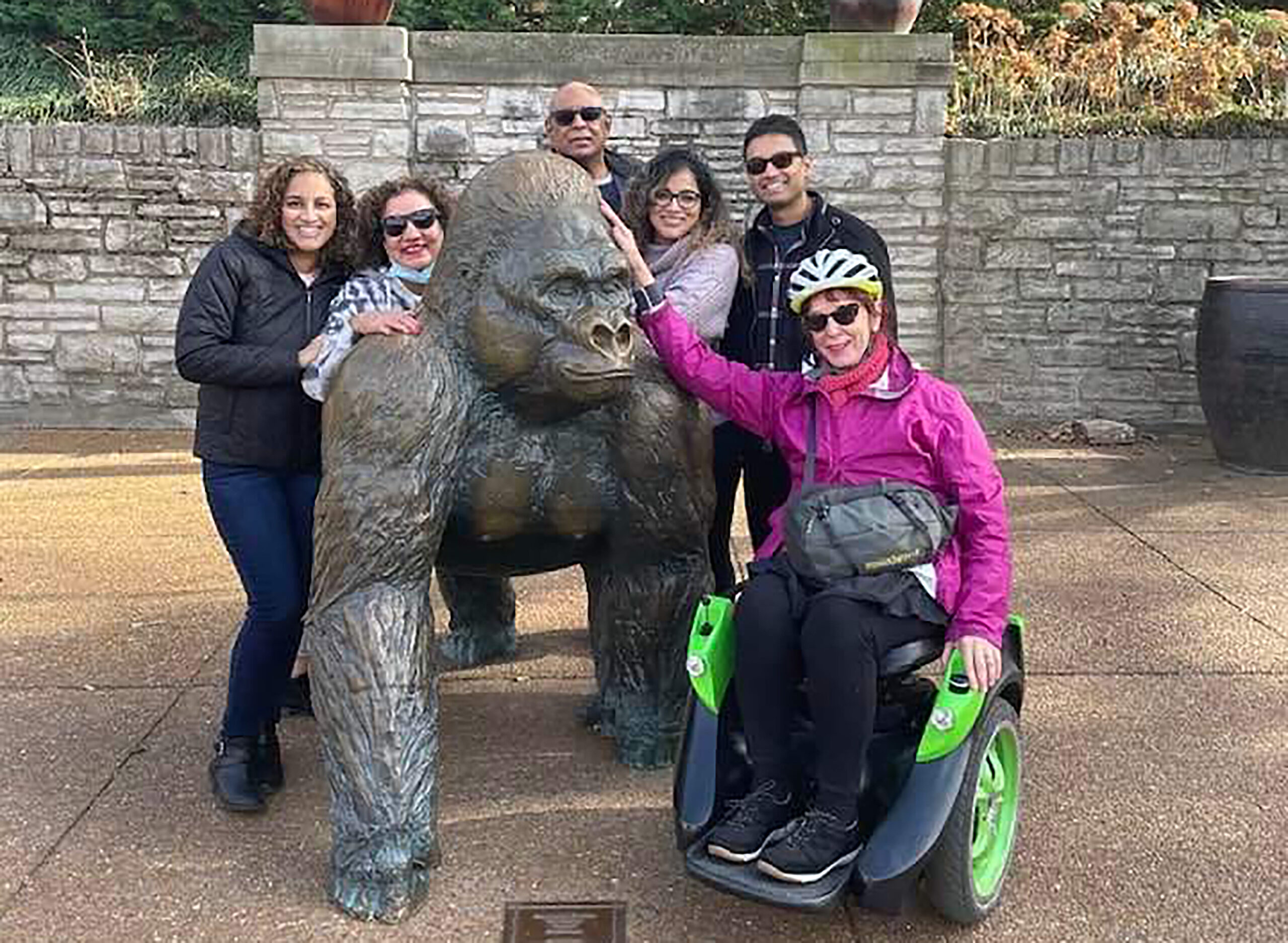 "The Omeo erases environment limitations and lets you experience the freedom of movement in an immersive way!" 
A professional ballet dancer with an international career, Tavi followed up her years as a dancer with a career as a Physical Therapist rehabbing paraplegics and quadriplegics. Years of dancing left her with two total hip replacements and ankle surgery. When she also had reconstructive surgery after breast cancer, she knew her active lifestyle would need some support!
Tavi loves riding her Omeo alongside her husband and friends, often joining their long bike rides. She explains that being able to ride 8 miles an hour is exhilarating, but even more so is movement without pain or appearing disabled. Her husband affectionately calls her green Omeo the Snurtle, but Tavi says the name is deceiving since she is usually faster than the cyclists they encounter when they ride around the trails around their home.
Favorite adventure with her Omeo: Taking it on the gravel trails around Creve Coeur Lake in St. Louis, Missouri!
Meet Michelle MacKinney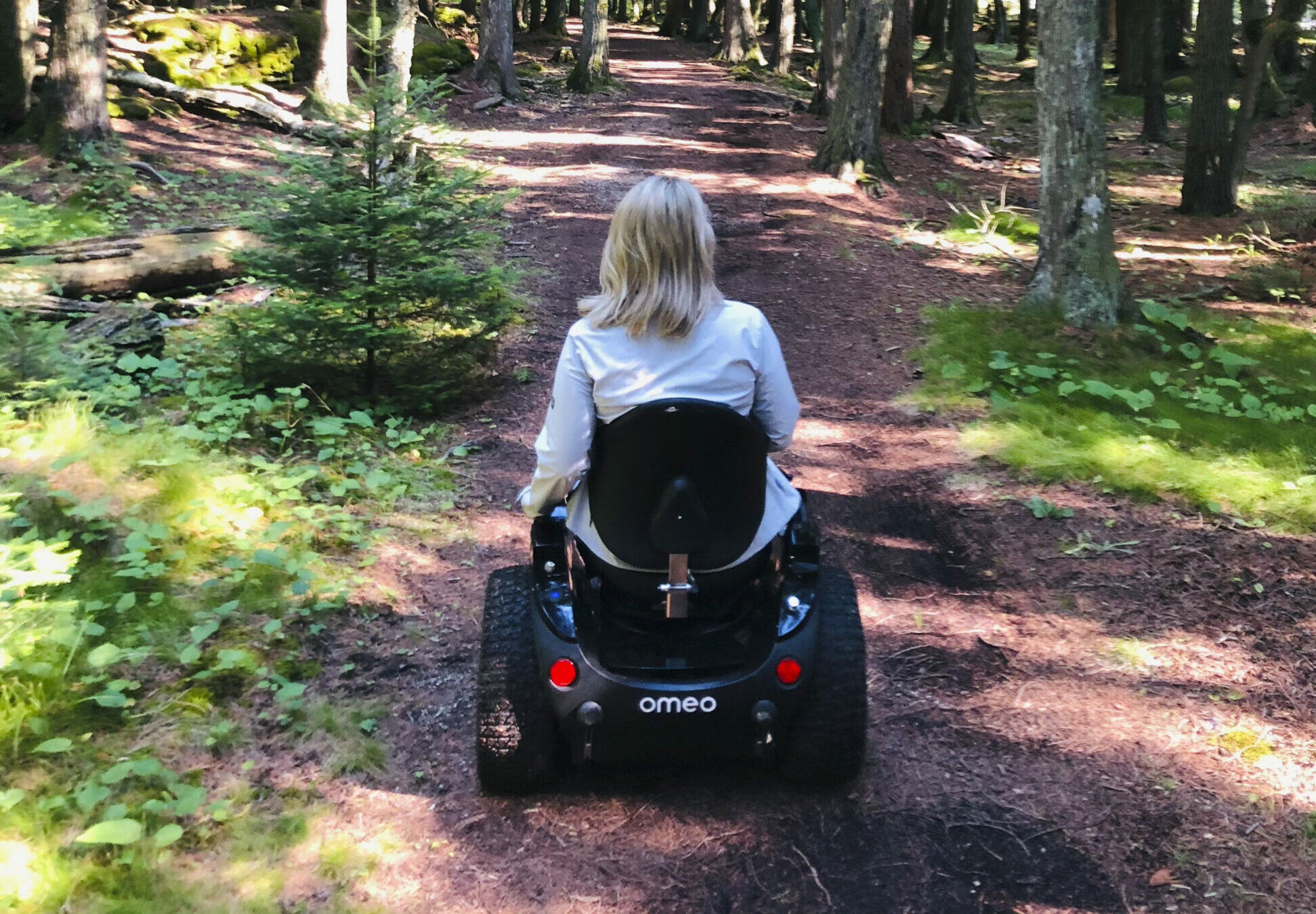 "There is nothing else on the market that would work for me. I would pay triple the cost to have an Omeo knowing the independence it brings to my life!"
Michelle was a competitive athlete, competing in swimming, softball, and triathlons when an adverse reaction to an antibiotic left her with a condition called Fluoroquinolone Toxicity. The results are a painfully degenerative condition that has stolen her ability to move long distances as well as the functional use of her hands. The Omeo's hands-free technology allows her to move with freedom (and speed!) when interacting with her children. One of her favorite experiences was holding her daughter's hand for the first time as they trekked down a trail together, something she hadn't been able to do, as walking more than a few steps at a time was impossible. 
Michelle's favorite adventure was planning her first outing with her children on a five-mile ride to the Nature Center that is accessible through the 200 miles of trails attached to her neighborhood. It was the first outing she planned and executed for her children without assistance from her husband. Giving her husband a break, planning the adventure, and knowing that no one else had to be with her gave her a sense of spontaneity in her parenting! 
Favorite Adventure with her Omeo: Hitting the beach, taking Omeo on the trails in Sedona, going on a ride with other Omeo users in Tucson, Arizona, but most of all, being independent in her parenting of her children, and the level of play it has brought to their relationship! 
Meet Ben Rathke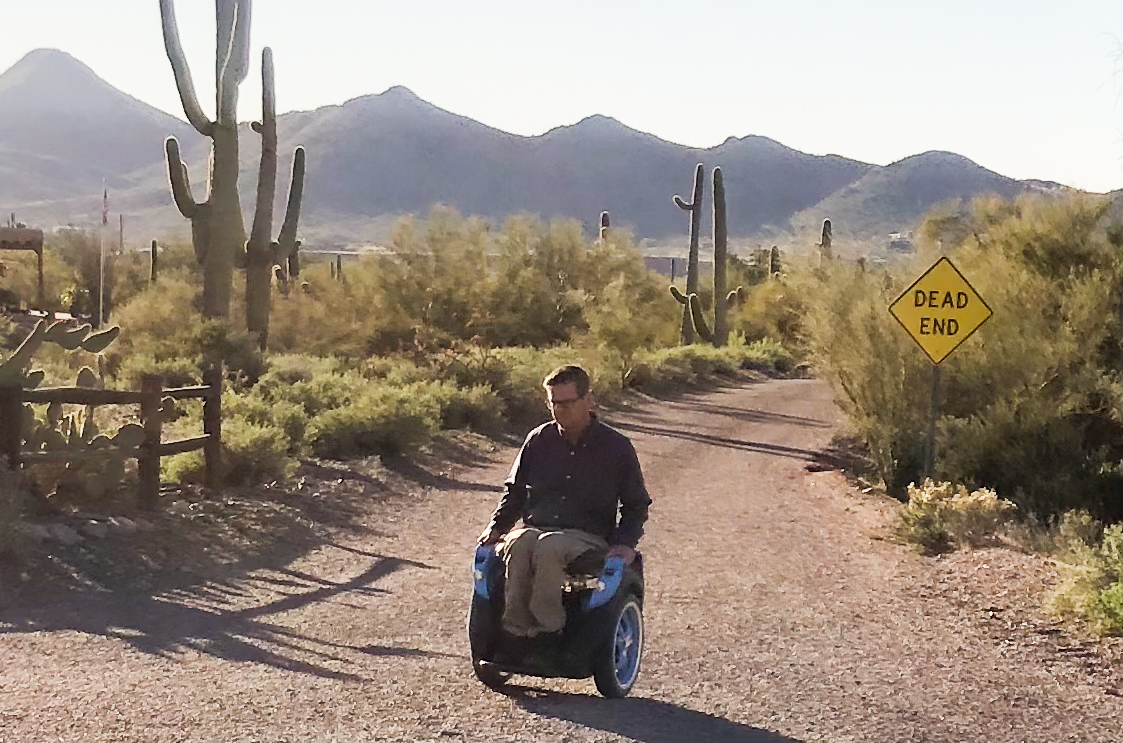 "The best adventure is getting out on my own into the sticks!"
Ben is one of our newest community members, and in just ten months, he has already taken his Omeo through about every terrain you can imagine! From navigating the snowfall in the White Mountains to hitting forest paths, desert trails, and even the hills of Napa, Ben is always ready for the next interactive experience!
Ben shares that he loves the versatility of moving from seat mode to joystick mode when he wants more control over his Omeo in crowded situations. Freedom is knowing Ben has complete command over his surroundings, whether around the office or getting out into the trails around his home; nothing he's encountered has been a match for his Omeo!
Favorite adventure with his Omeo: Spending time on the trails outside his cabin in the White Mountains.
Meet Ryan Paul Johnson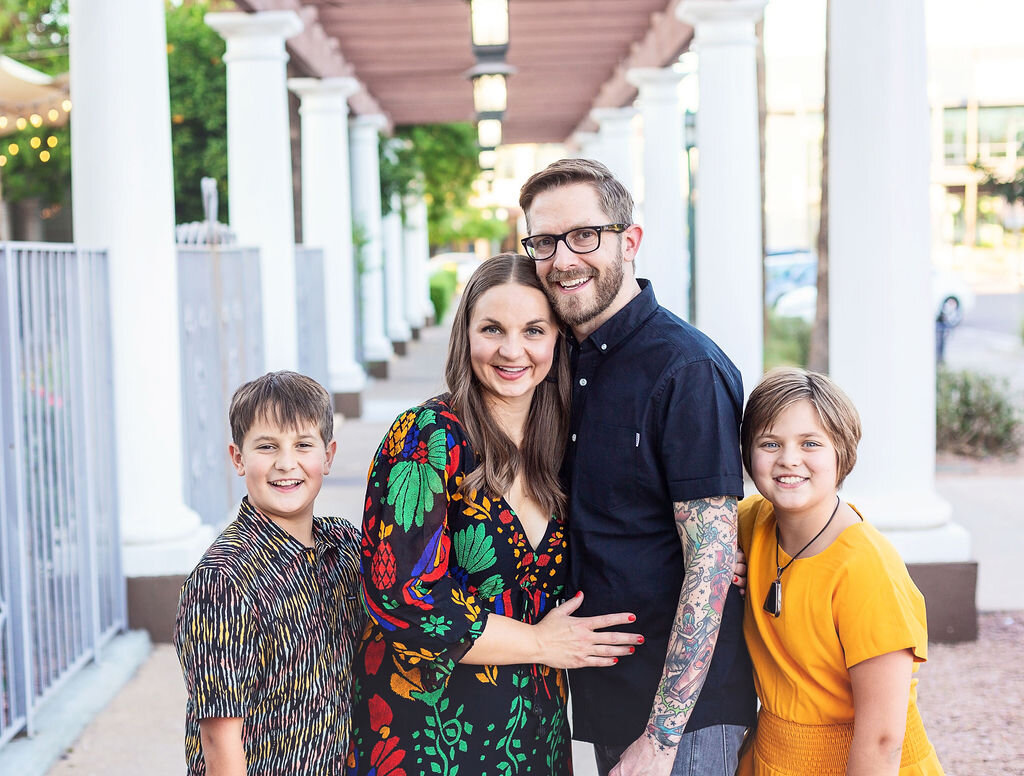 "Omeo has changed how I interact with my kids. I've discovered a whole new way to parent through play!"
Stand-up comedian and real estate agent Ryan has been an ambulatory quadriplegic since a snowboarding accident when he was 19. 4 months after his injury, Ryan found he could push himself into a standing position. With that realization, he knew independence meant getting his strength back. Hard work and determination make Ryan who he is, but more than that; we'd say he is fun! Finding new ways to explore life and find humor within the human experience is a big part of what makes Ryan such a fun person to be around.
Ryan got his Omeo about a year ago, and it's been a life-changing experience. Watching YouTube after YouTube video, Ryan knew the Omeo was for him because of the hands-free self-balancing technology. Having an Omeo allowed him the agency to say yes to activities he'd never considered before, and within the first week of riding, he was out on the Arizona trails with friends! From hiking with his best buddies to racing his kids at the park or serving as a board member for Arizona Adaptive Water Sports,  Ryan loves doing life at full speed.
Favorite adventure with his Omeo: Any opportunity to play with his kids, whether skateboard rides through the park or racing them on their bikes.
Meet Spring Adamo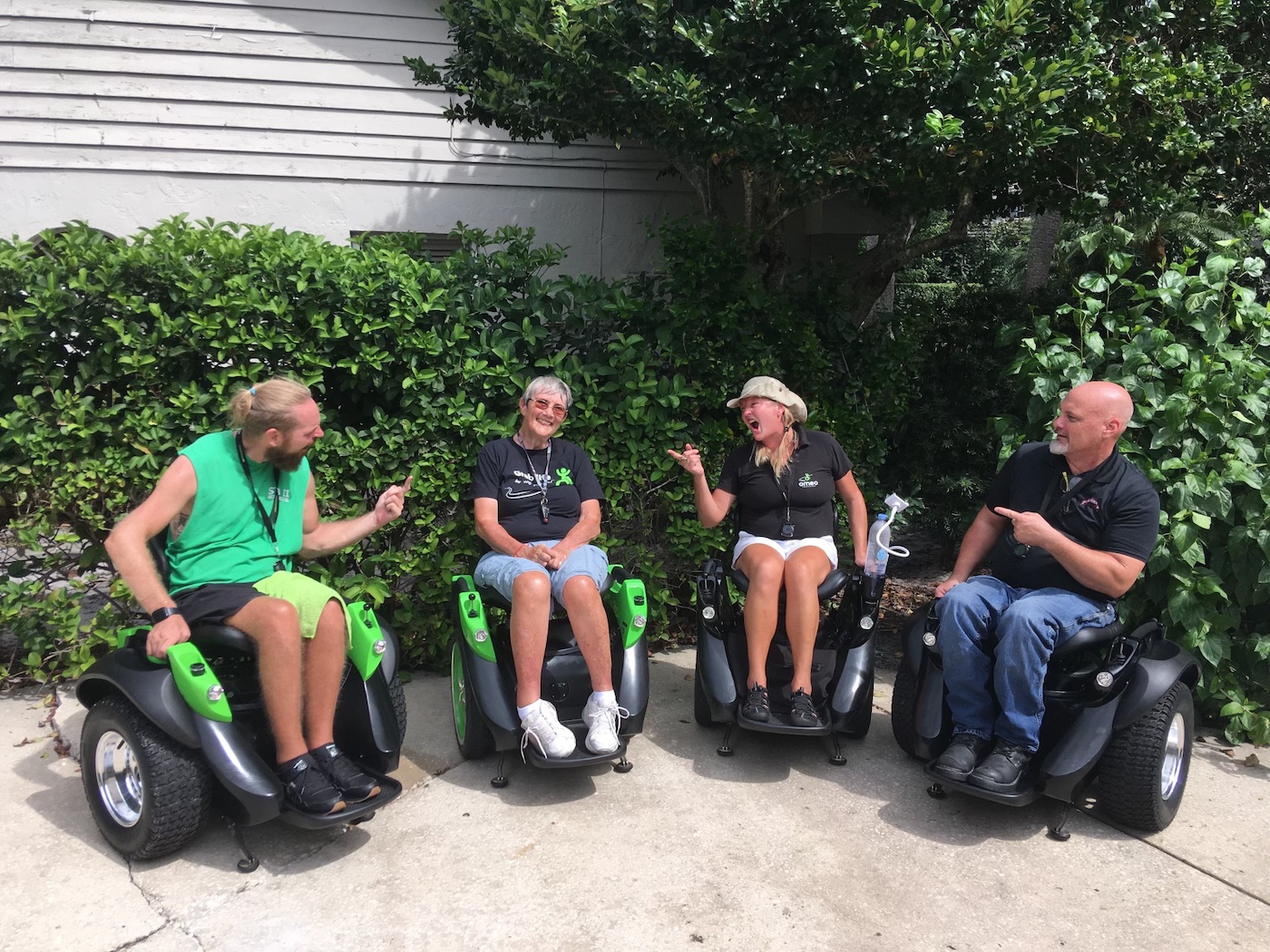 "Omeo is how I want to change the world by getting it out to as many users as possible." 
There is no greater spokesperson for the Omeo than Spring! She took on the daunting task of introducing this personal mobility device to the US market. When parts were scarce, she taught herself to fix the Omeo so that users wouldn't be without their chairs for longer than necessary.
She answers the calls of over 200 users when there are questions and need for support. That kind of dedication only comes with knowing she's supporting a product that can change lives.
Favorite Adventure with the Omeo: The secondhand joy she feels every time she sees a new user experience the Omeo for the first time!
Meet Mike Neher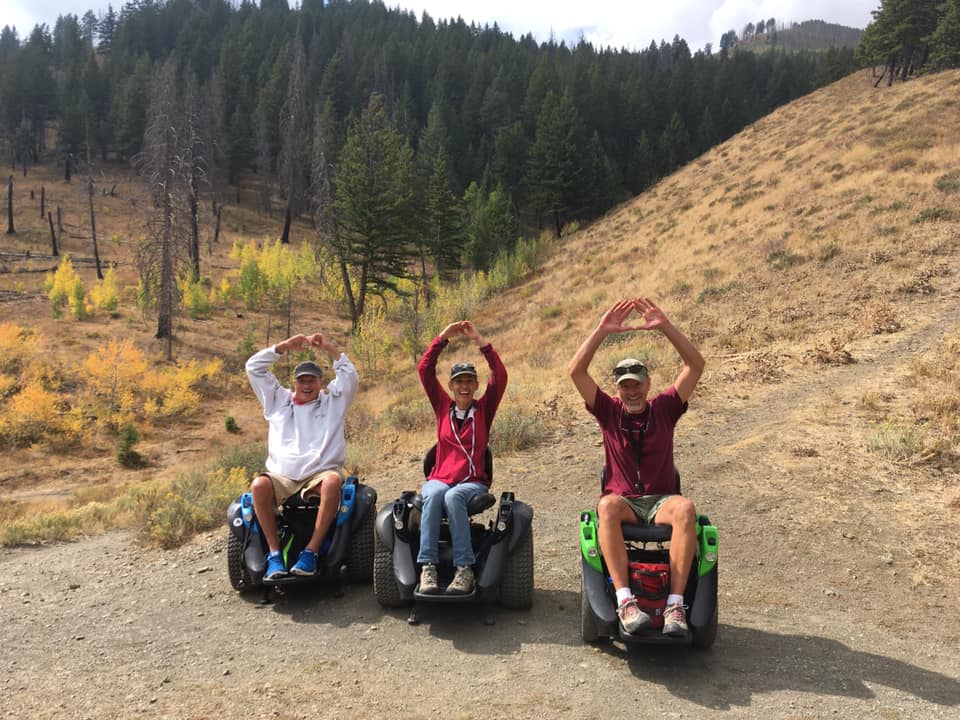 "Warning…if you try an Omeo, you will like it. It's phenomenally fun to ride!" 
Mike and his Omeo have been trekking around together since 2018 – in fact, he got the second Omeo ever shipped to the US! We affectionately call him Omeo Mike as he has been sharing the Omeo love across the United States ever since he first got his. Mike loves nothing more than to hop in his van and hit the road, knowing that the Omeo can take him even further no matter where his adventure leads. In Mike's words, "I'm free! I've got my freedom back!"
Favorite Adventure with his Omeo: Taking the Omeo to Hawaii and riding for 8-10 hours a day, flying over both grass and sand while exploring all the sites.
Meet Betty Moody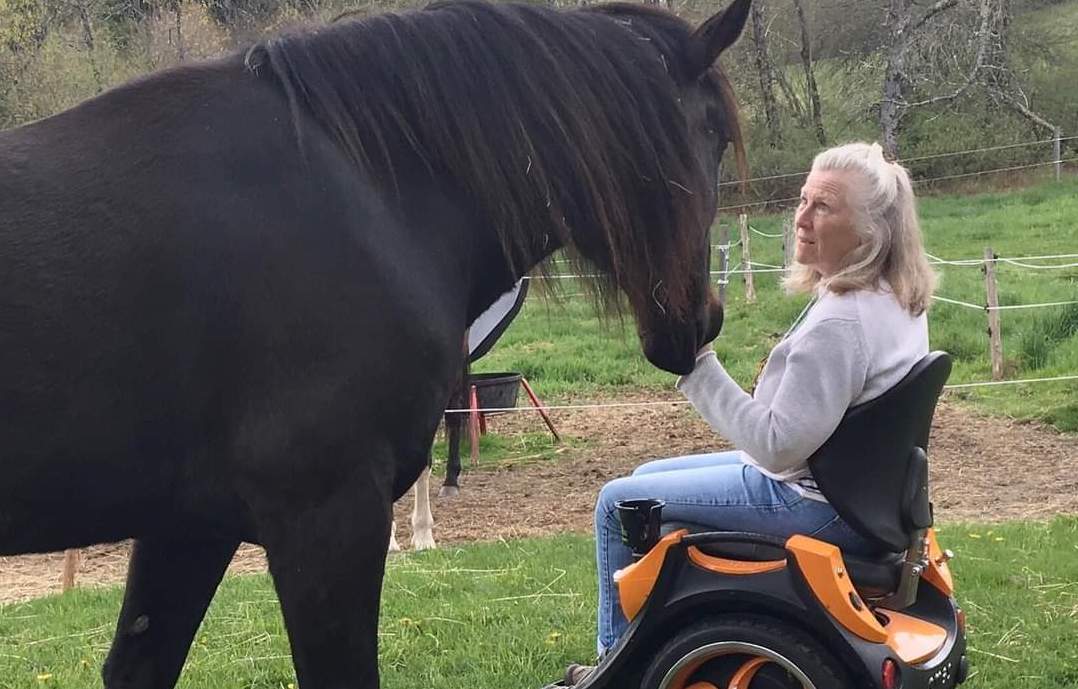 "My freedom and empowerment are so great. I don't take a minute for granted!"
"We won't stop." That's how Betty describes the average Omeo user. An avid horsewoman, Betty first got her Omeo to allow her to continue working in the barn and caring for her horses after years with MS had taken its toll on her body.
Now she uses it for most adventures and daily trips around her New England home. While she says keeping up is definitely a bonus, her family and friends say it sometimes holds her up because so many people stop to admire her Omeo and ask questions!
Favorite Adventure with Her Omeo: Taking the Omeo on the trails in Franconia Notch, New Hampshire, with a friend to see the peak fall foliage.
Meet Kate Grover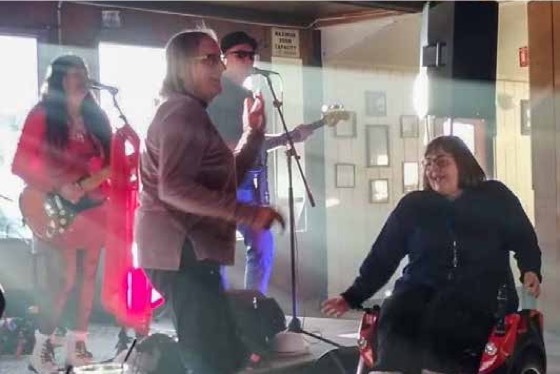 "The best way to fill a dance floor is to have a wheelchair user lead the way!"
Kate's fire-red Omeo matches her zest for living life to the fullest! Thanks to a 90% decrease in back pain from using her Omeo, Kate has found herself exploring new cities, visiting the beach, and taking her grandchildren to see the snow.
She recently got out on the dance floor while enjoying live music in Sacramento and found herself dancing pain-free for the first time in almost seven years!
Favorite adventure with her Omeo: Going to Pismo Beach for the first time in 20 years and using those fat tires to fly along the sand.
Meet Dr. Ben Woodford
"This device is so fun to ride, and I'm not shy about taking Omeo to the edge!" 
Social scientist, Stanford professor, and full-time nomad Ben is the definition of living a life by design and intention. Living out of a van that he customized and built himself, he loves exploring the United States, seeing what each community has to offer while exploring the unique perspectives people's circumstances have on their views and outlooks. 
Over the last two years of travel, he has met so many new people and credits the Omeo for bringing a lot more fun and adventure into his life! From meeting up with a crew of One-Wheelers in Tallahassee and tearing around town with them to hand-feeding baby calves, Ben is always looking for new places to explore! 
Favorite adventure with his Omeo: A winter spent exploring the diverse terrain of the desert, switching seamlessly from volcanic rock to hard-packed earth and blowing through sandy washes.
Meet Steve Poutre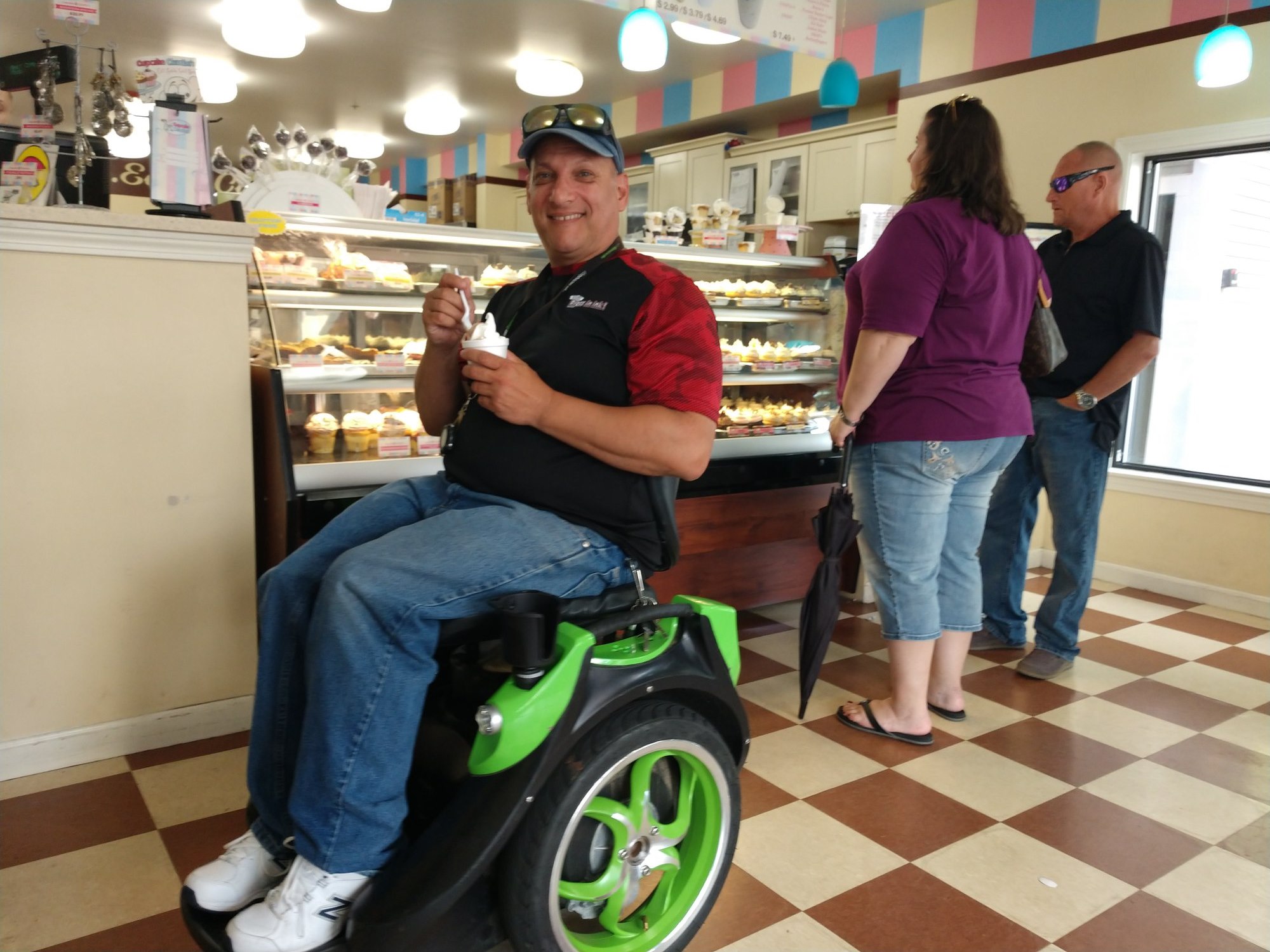 "Where will Omeo take you?"
Founder of Creative Mobility, Steve was one of the first Omeo users in the USA! Steve is passionate about seeing people with different abilities thrive through access to whatever tools they need to live life on their own terms. He's taken his passion to the next level by creating a 7,000 sqft training facility complete with 2 miles of outdoor trails to help new Omeo users gain the necessary skills to use their Omeo safely and to the fullest extent of its capabilities! His space is also outfitted with fully ADA-compliant guest accommodations designed with comfort and accessibility in mind!
Favorite adventure with his Omeo: Any nature trail that crosses his path!
Meet Marlon Benn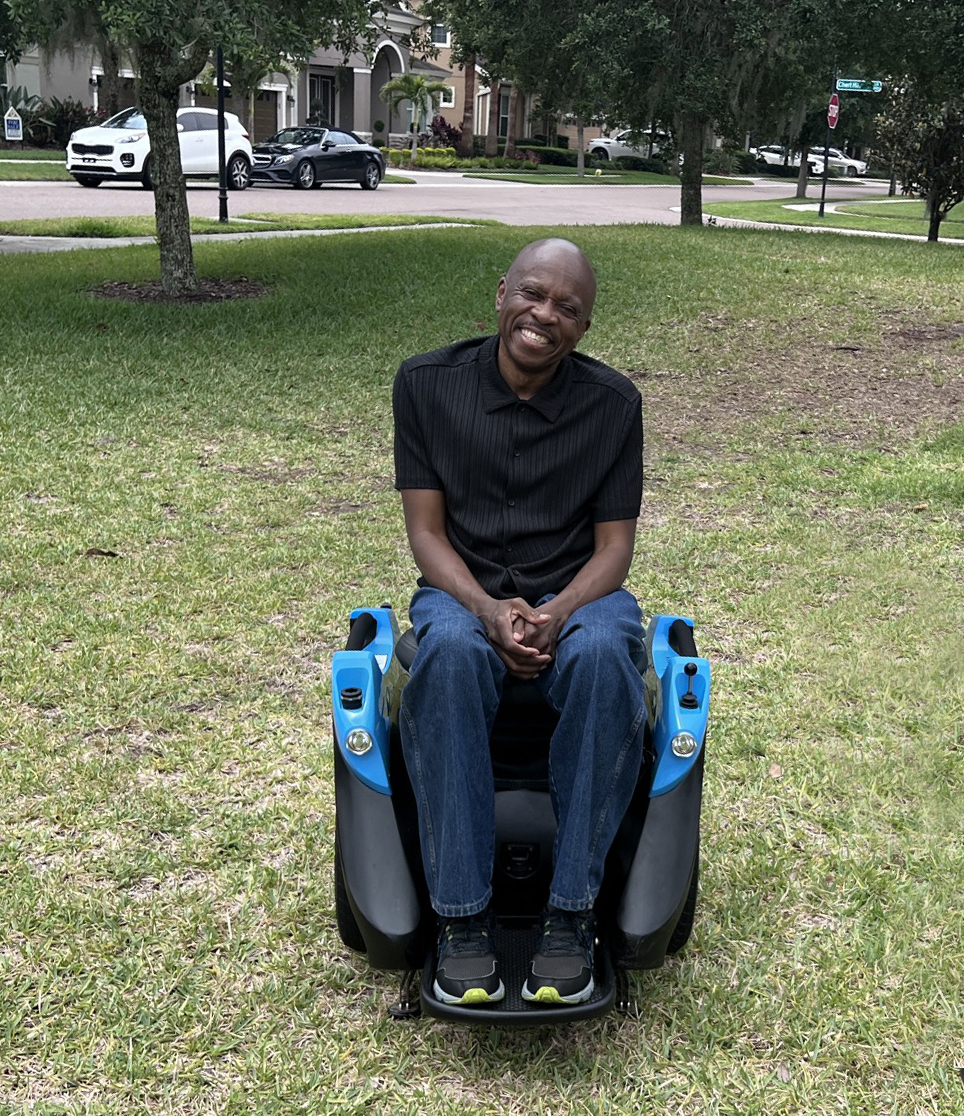 "Everywhere I go, I stop traffic!"
Marlon is a 14-year veteran of the US Navy. Raised in Trinidad and Tobago, Marlon has always been at home in nature. His favorite adventures are the ones he shares with his best boys, Freddy and Ozzy, a Yorkie poodle mix and a Belgian Malinois. They are up to 4-mile runs daily, and Marlon keeps up as they explore over 20 miles of trails around his neighborhood.
Staying active was a big part of his choice to get an Omeo. He loves how it works on his core, helping him stay strong while allowing him to go further than on his other mobility devices. And, in the words of Marlon himself, "I look good doing it!" 
Favorite adventure with his Omeo: Any Omeo ride with Freddy and Ozzy leading the way!
Meet Thom Forney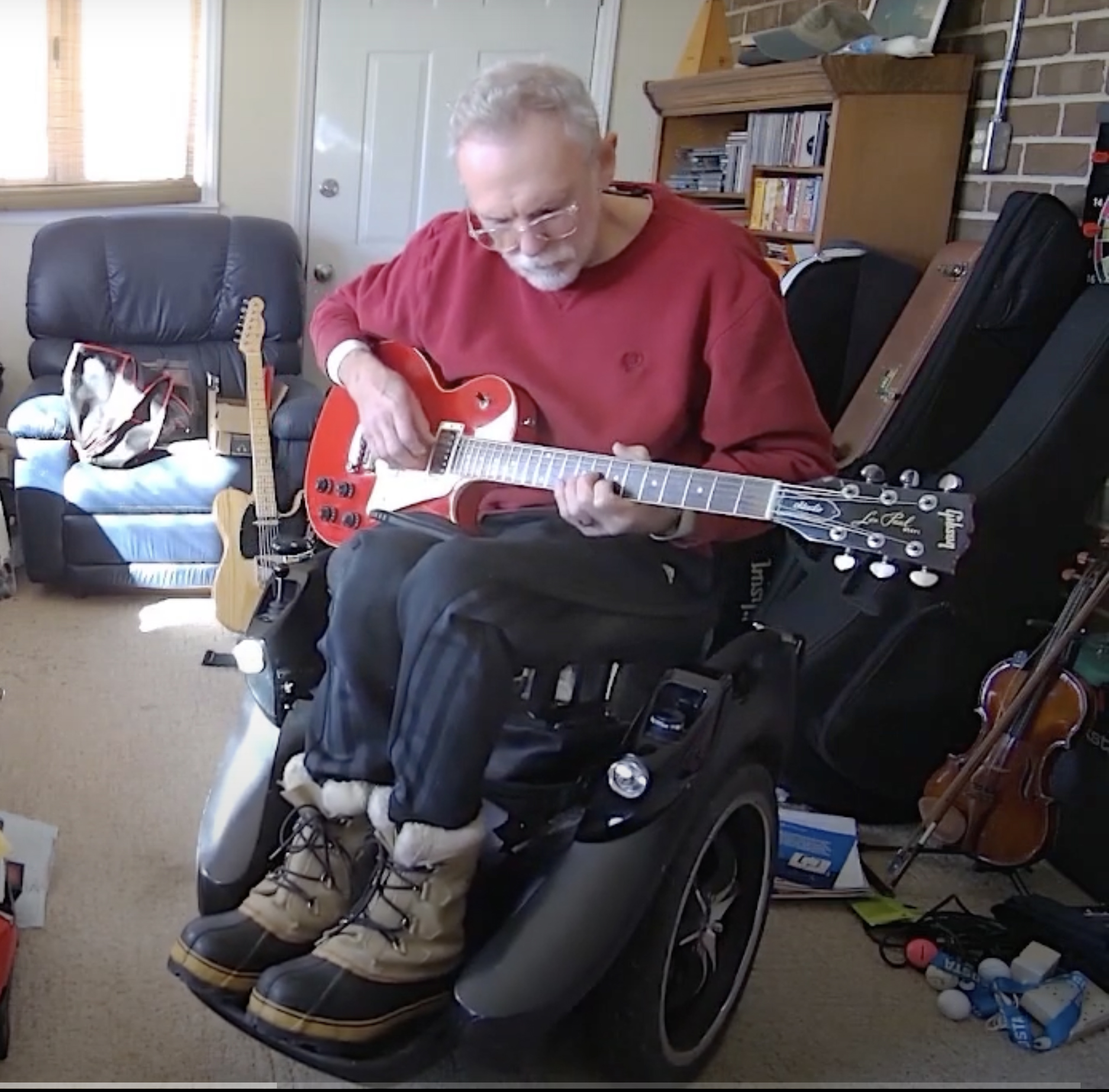 "The word I use to describe being out in the Omeo is magical. It's almost magic to experience the places it takes me."
Jazz musician, outdoorsman, and all-around Renaissance man Thom has been living with a spinal cord injury since he was 27. While his injury required him to pivot his life plans at a young age, he has spent the last 40 years doing life on his own terms! Thom has led a life full of exploration and adventure. From camping outdoors as a Scout Master with the Boy Scouts of America, or working for the Parks and Recreation department, staying active has always been part of who Thom is. He was even responsible for completing the wood restoration and mechanical work on the historic Shelby Park Carousel in Shelby, North Carolina. 
Thom spends his days getting out and exploring all the wooded trails surrounding his home, including access to the river that runs close to his property. He wouldn't have ventured to these spaces with his traditional wheelchair, but the Omeo has allowed him to get to them without loading his chair into an all-terrain vehicle! Getting out and going is nothing short of magical for this outdoors enthusiast! 
Favorite adventure with his Omeo: One of his favorite trips was taking his Omeo to the beach for the first time. He and his wife enjoyed exploring the sandy shores using the all-terrain tires. 
Meet Kimberly Bumgardener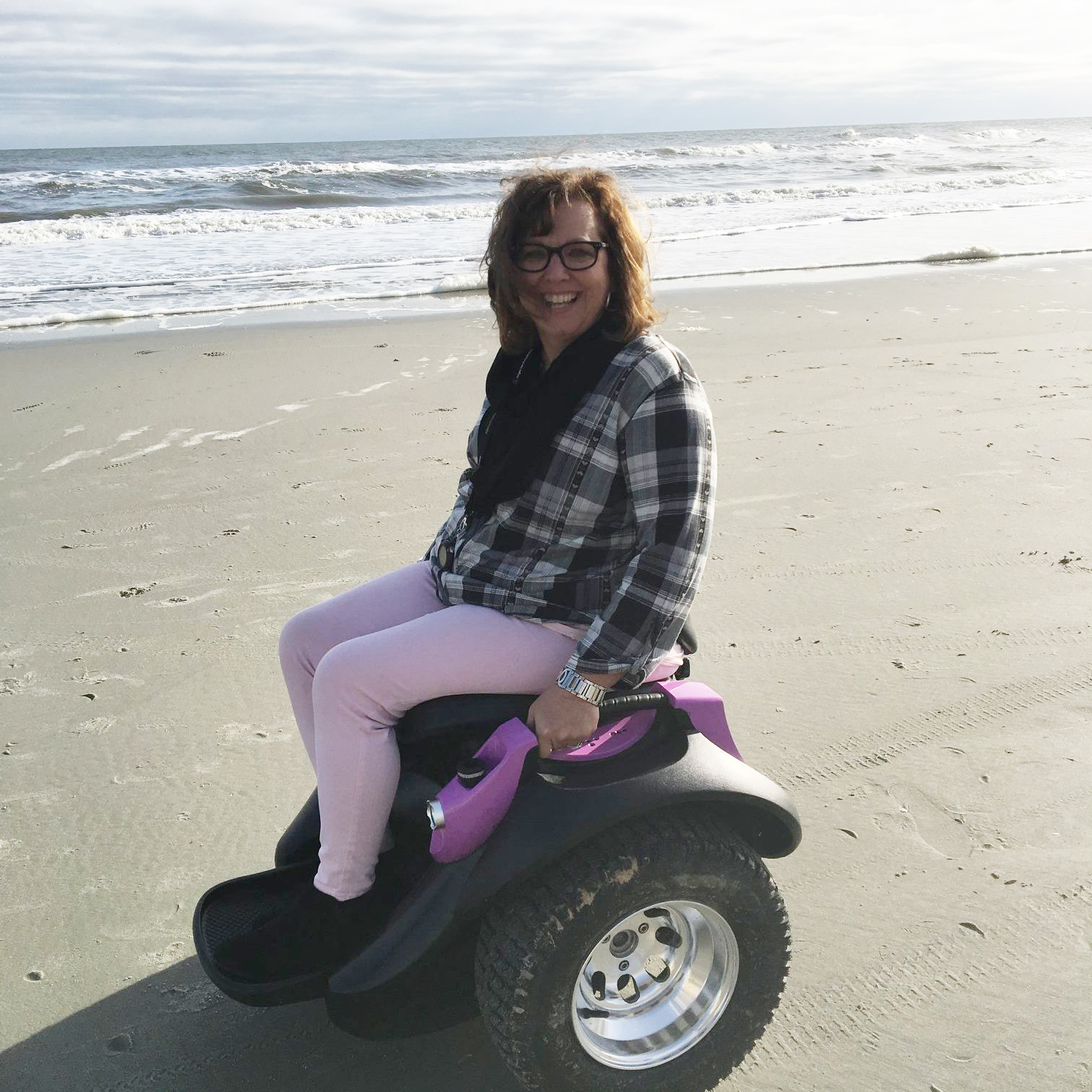 "Three years into owning my Omeo, and I am still delighting at new experiences!" 
After having the opportunity to try the Omeo after inventor Kevin came through on a US tour, Kim knew this device was what she needed in her life. Her friends and family agreed, coming together to throw a fundraising dinner that made the purchase possible and allowed her to give the excess to a family in need in her hometown! Since receiving her Omeo in 2019, she has spent her free time doing things she had never been able to access before! Now you can see Kim in the yard with her grandkids, riding with her husband on the greenway, and road-tripping to historical sites! 
Favorite adventure on her Omeo: Taking her Omeo and 7-year-old granddaughter on a 48-hour, 32-mile trek along the Virginia Creeper, a famous trail known for its incredible views! 
Meet Gael Ulich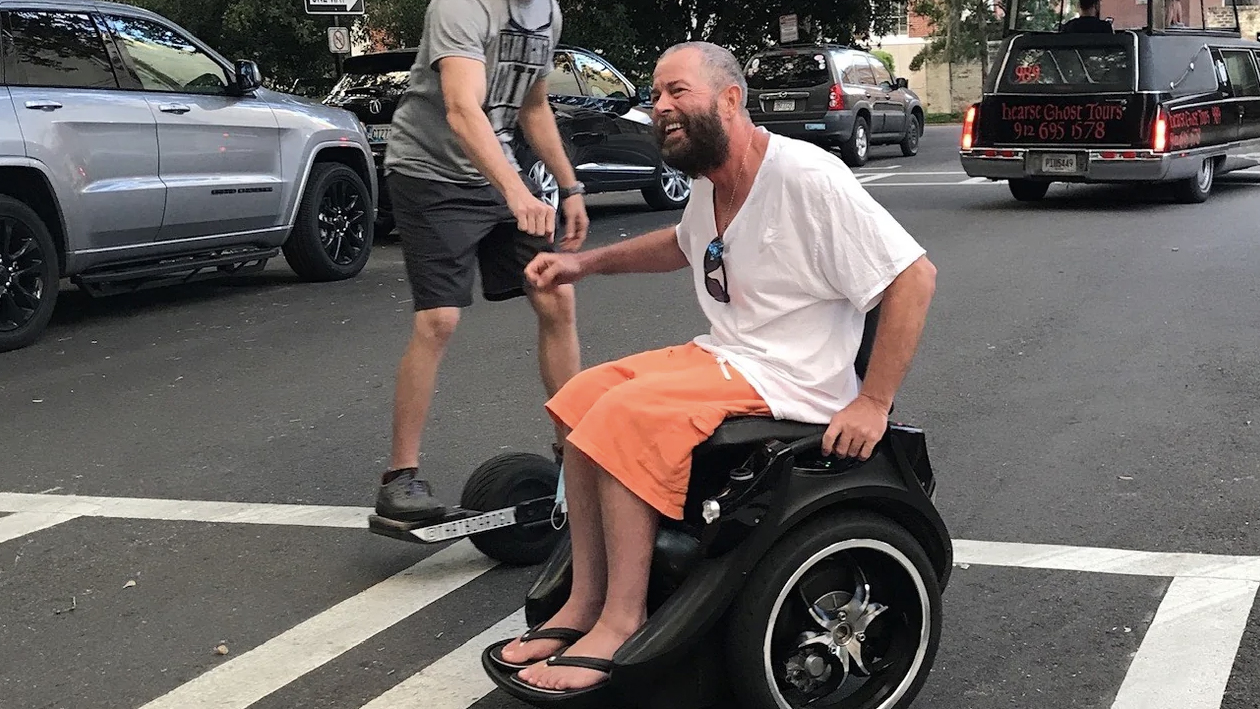 "My Omeo is so freeing. It's an interactive mode of transportation!"
At the age of 19, Gael was diagnosed with Multiple Sclerosis. Even with a life-changing diagnosis, Gael has always pursued what he wanted! He was fortunate to spend almost 25 years symptom-free, pursuing his dream of being a corporate lawyer, spending time with his husband, Mark, living overseas, hiking the Scottish Highlands, and exploring the world. 
After learning about The Omeo in an MS publication, he knew it was a natural choice. Having an Omeo allowed him to continue adventuring across the beaches of Florida and exploring the beauty of New England. In his free time, you can find Gael and Mark flying down the sandy beach or visiting the trails around their home. 
Favorite adventure on his Omeo: Going to Daytona Beach with Marc riding beside him on a Segway, feeling utterly unhindered by the sand and spray! 
Meet Marilyn Salisbury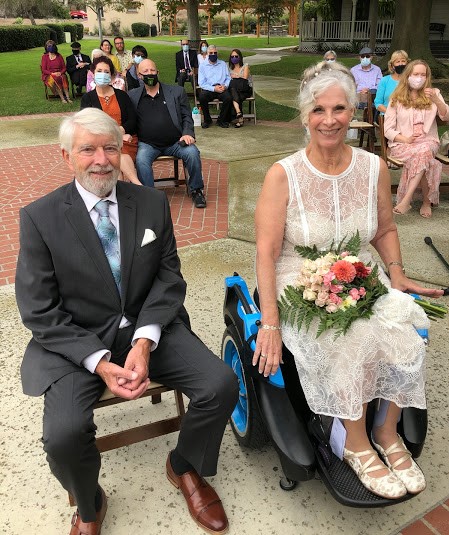 "I'm 73 years old, and the Omeo has shown me how much of life I missed out without it." 
Marilyn is a polio survivor living in Oceanside, California. Thanks to a trip to Colorado to participate in an adaptive skiing event many years ago, Marilyn became aware of the need to share accessible activities with the community. At the time, she worked at the Union-Tribune in San Diego. When she took her idea for a new column to her boss, he immediately tasked her with writing it. Despite feeling like she wasn't equipped to take on the role of a journalist, her column, Abilities, complete with a calendar of activities and events, became a newspaper favorite, running weekly for 12 years! The Abilities column was the first of its kind, paving the way for recognizing the disabled community's desire to be actively engaged with the world around them. 
Over the years, Marilyn has used a variety of mobility aids to assist in her maintaining an active lifestyle. Finding the Omeo has allowed her movement that "feels natural to my body. It feels like dancing, moving my body in sync with the chair like it's part of my body."  Movement is essential to the human experience. Marilyn credits her Omeo for letting her experience life with freedom of movement and speed that she hasn't had with traditional mobility aids. 
Favorite adventure with her Omeo: Near her is a hiking trail that leads to the beach; going on that trail scared her, but she did it! And that is all thanks to the Omeo! 
Meet Amy Patterson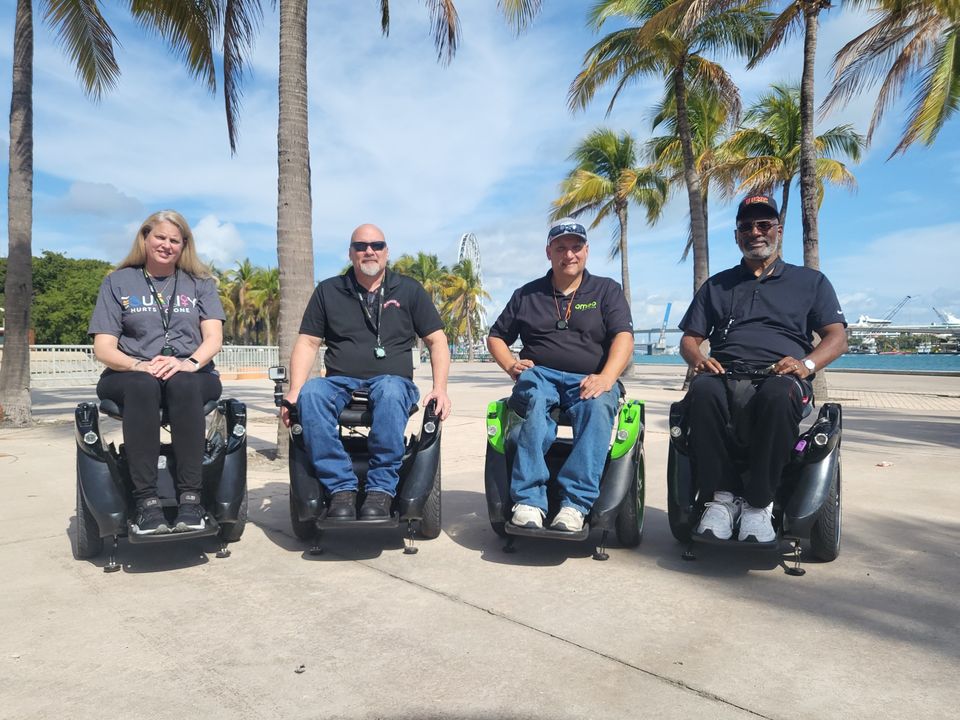 "I named my Omeo, Ankur, which is Hindi, for new life. Omeo has given me a new, barrier-free life."
Amy Patterson had a successful career as a United States Marine. She was an accomplished athlete, competing in every sport she could, but especially in marathons. Pushing herself to the absolute limit was her nature, and she was very good at it. In 1997, a training exercise caused her to sustain an injury in her L1-L5 vertebrae. She has been a full-time chair user since.
"One of my great griefs is losing my ability to compete. I love performing at an exceptionally high level, and I miss the loss of independence that allowed me to do that."  My first time out in the Omeo, I remember the feeling of moving fast as I zipped up and down hills. For the first time, the attention felt more like it was on my cool chair than it was on me. It reminded me of riding motorcycles which I loved to do before my accident, and I was instantly hooked. 
Amy's goal is to help other veterans gain access to owning an Omeo. Meeting up with other Omeo users for adventure rides gave her a familiar sense of comradery. Amy believes in the power of sharing adventures with others with similar experiences. 
"This is life-changing – Honest to God, I have tried Powerwheels and manual assist drives and nothing compares to this vehicle."
Favorite adventure with her Omeo: hitting the hills and parks of Miami's Bayfront park with a herd of other Omeo users. 
Meet Troy Lawrence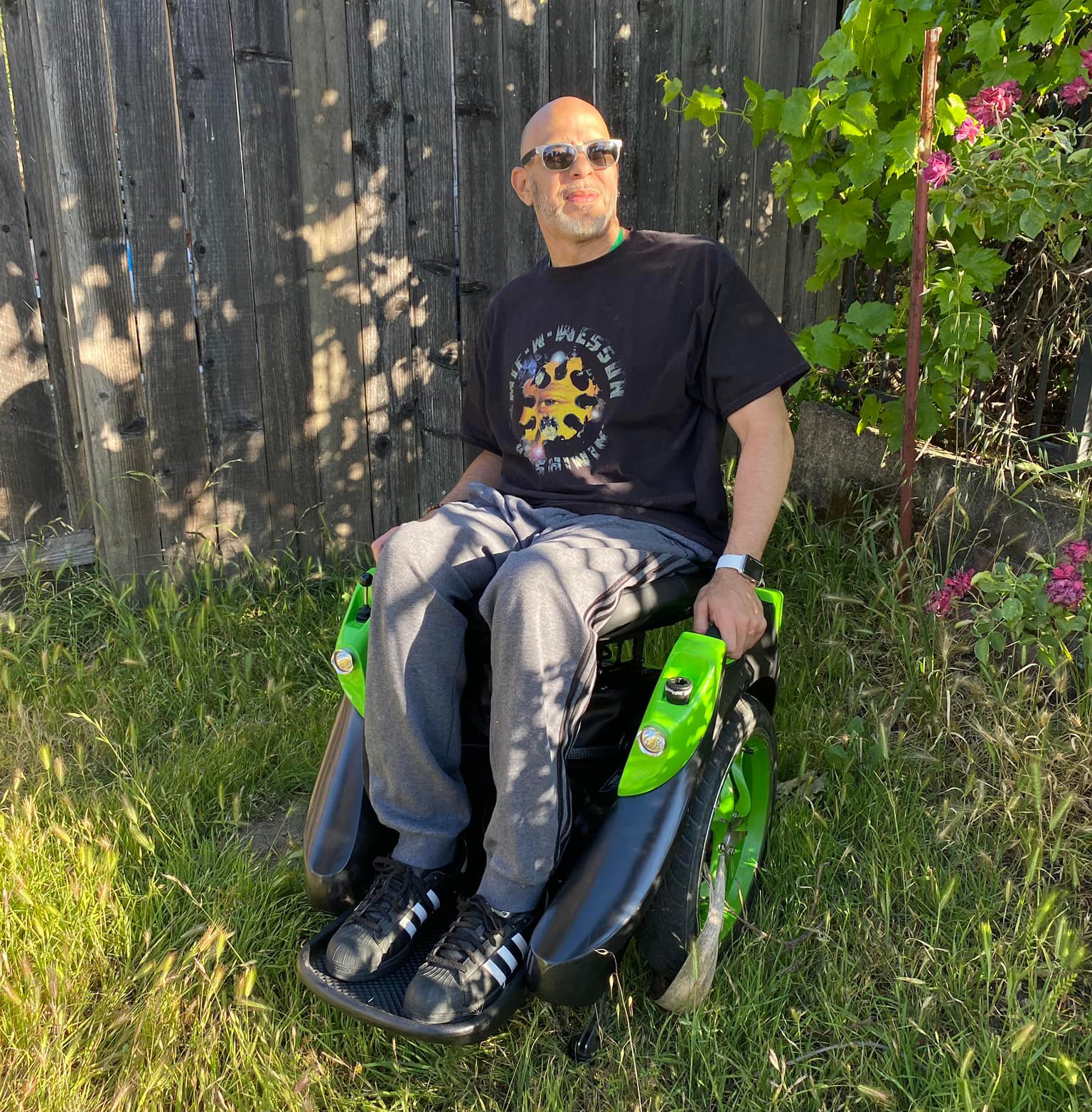 "When I am in my Omeo, I don't need NOBODY." 
Fiercely independent and always on move, Troy is known for his indomitable spirit. Before his accident that left him paralyzed, Troy was active in coaching youth sports (famously teaching a young LeBron James how to swim at his local YMCA!) and later on serving as a front runner to creating political change in his hometown of San Antonio. Now as a full-time chair user, he still embodies that same can-do attitude. He played several seasons for Ohio's Wheelchair Cavaliers before relocating to the Bay Area in California. Now he lends his sports expertise to leading a Wheelchair Workout at the NorCal SEI clinic every Wednesday and Friday while working on his nonprofit Green Centaur, a BayArea Nonprofit Different Abilities Foundation. Troy's mission statement is that he was put on this earth to "enable the disabled," and we love that we get to support him in that mission! 
Favorite adventure with his Omeo: taking the Omeo to Jamaica, where he proposed to his girlfriend of 5 years! 
Meet Beverly Dickinson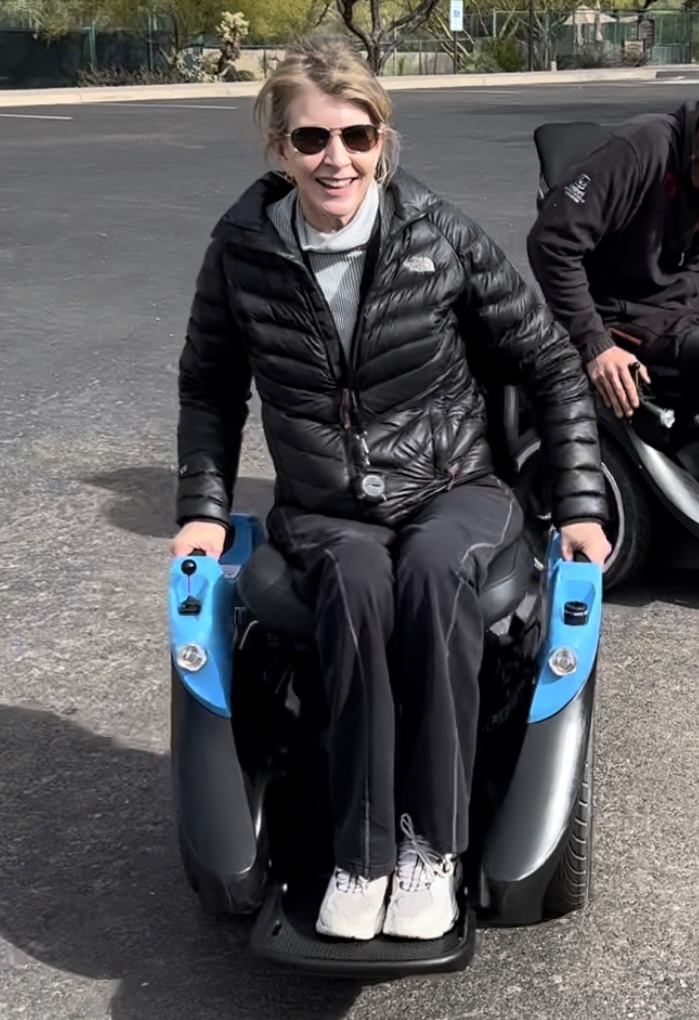 "I was made to move, and I was made to move fast! The Omeo is perfect for that." 
Originally from Denver, Colorado, Beverly currently splits her time between home and her winter home in Arizona. A mountain biking accident in 1990 left her with a broken back resulting in a spinal injury. After four months of recovery a Craig Hospital, she began looking for ways to resume the life she once loved. 
 "I wish the Omeo had come around back then; it would have made things a lot easier or the healing process a lot faster." 
After spotting an advertisement on Facebook, Beverly's interest peaked! While it looked like fun, she wasn't sure how she would use it. But once she tried it, she was hooked! "I used to come home from work and hop on my bike, and I'd just go. The Omeo is now my bike! I can go right out my door to parks and rides, and I don't wear out my shoulders going up hills and whatnot! If it weren't for the Omeo, I would have a less exciting life; it would be a lot less fun, and I wouldn't be out seeing the world."
Favorite adventure with her Omeo: She and her husband have taken a couple of trips to the mountains, in Edwards or Vail; they have the bike path going along Gore River, which is just beautiful.
Meet Adrian Patterson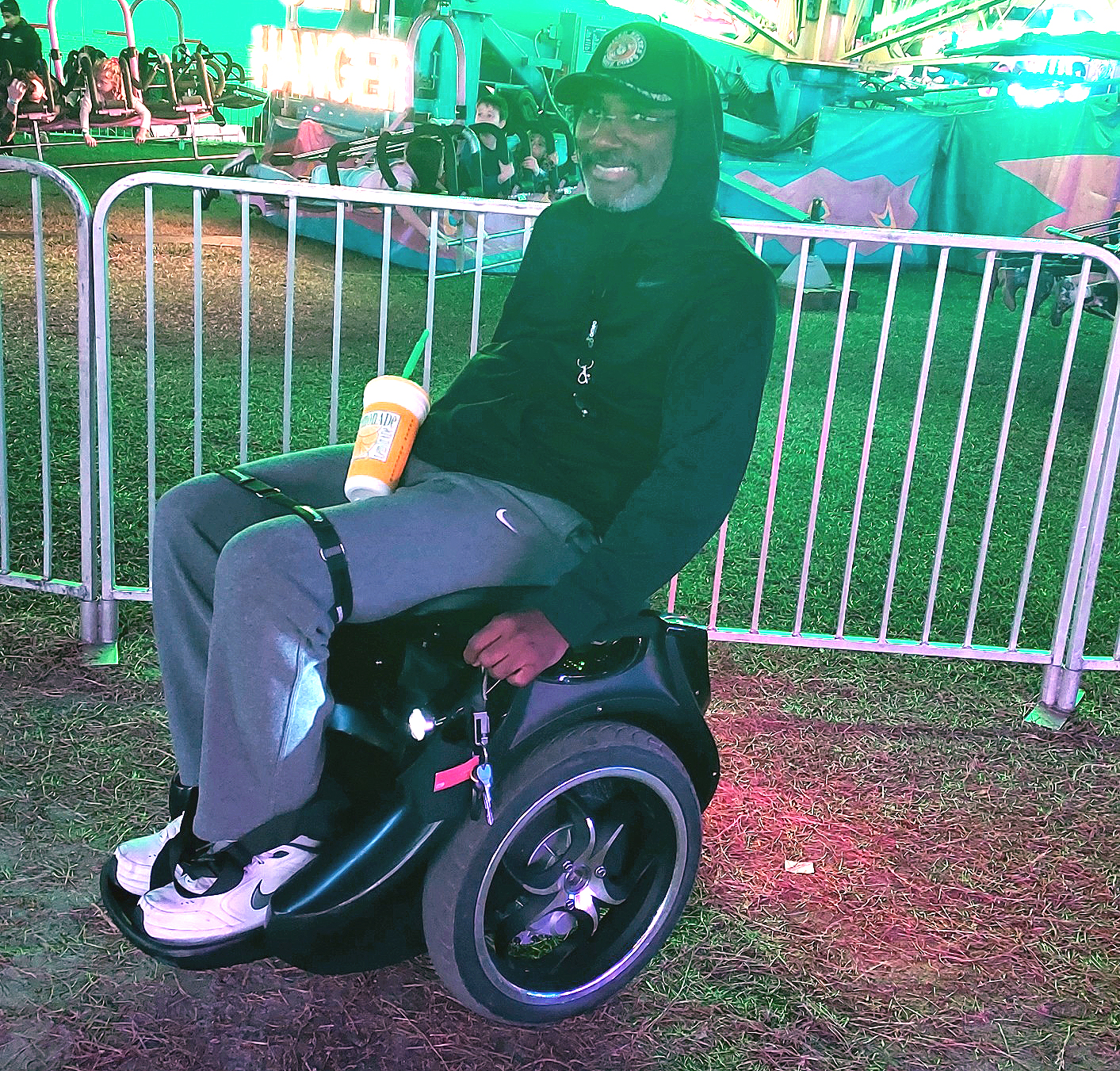 "The Omeo is the chair of the future! If you see this chair, you're going to WANT this chair!"
As a United States Marine Corps Veteran living the last 44 years in a wheelchair has meant living with restrictions. No riding through the grass, no going on the beach, but now, his Omeo has eliminated those barriers. Adrian credits his Omeo to his ability to participate in life in an active way.  "When I was first injured, I didn't want to be seen. Soon enough, I realized that was impossible. I was going to be seen; what I really wanted was to live." 
Adrian's passion for living led him to volunteer with the VA to help other veterans who were dealing with new injuries. Soon he became a director and eventually was the Chief of Prosthetics for the VA. But his impact on the adaptive community didn't end there!  Adrian is very humble and likely won't tell you about his historical impact, so we will! Having spent much of his life in a wheelchair, he was at the forefront of the ADA movement, working with a nonprofit organization called Ironside that pushed for wheelchair accessibility in schools, grocery stores, jobs, and parking. Their efforts lead the way for the ADA legislation that exists now, but he insists, "that's just the beginning – we need to keep pressing for change. We pay taxes; we deserve accessibility!" 
Adrian is the definition of someone who wasn't just made to move, he was made to go further! And with Omeo, he does just that! 
Favorite Adventure with his Omeo: Hitting the Bayfront Park in Miami with other Omeo users and just exploring the area with each other. There's just something special about being out in the sunshine with friends! 
Meet Patrick "Mac" McElrath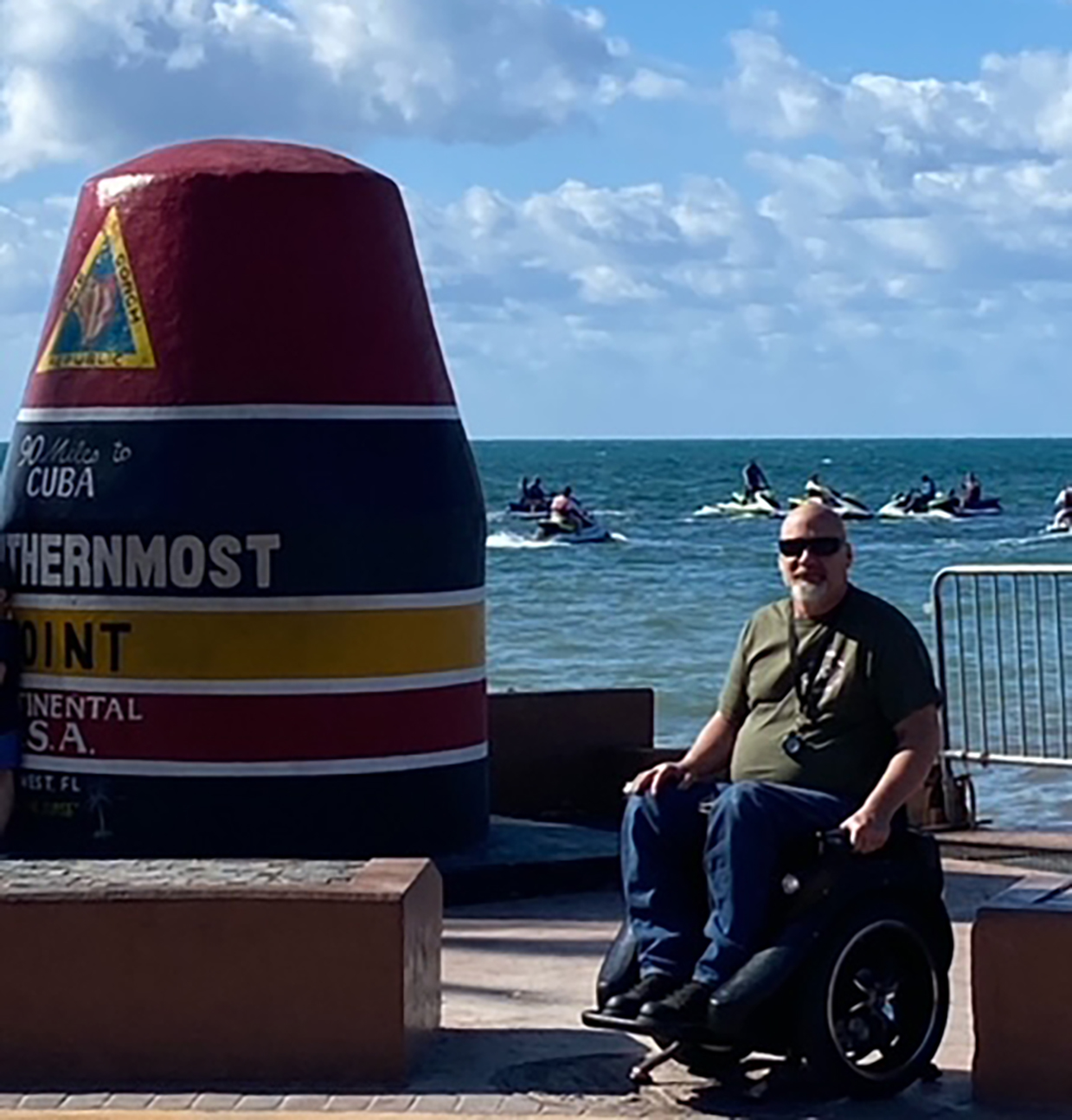 "I'm not a motorized chair kind of guy, but I saw the Omeo and thought this could be the best mobility device I've ever seen!"
Veteran Mac McElrath served as an Army Ranger in the Second Batallion, notably participating in the Panama invasion to dispose Manuel Noriega. In fact, it was during Operation Just Cause that he became a T7 paraplegic when his parachute became entangled with another Ranger.  The same spirit that attracted him to being an Army Ranger carried through to who he is today. He holds three gold medals as well as a bronze in track and field events at the National Veterans Wheelchair Games. Mac is absolutely a picture of a man who goes further. He even joined his Ranger brothers on a commemorative jump 30 years after being paralyzed, showing just how willing he is always to push the limits of expectations! 
Mac shared with us what he has loved most about having an Omeo: 
"I hate the beach…well, I love the beach…but I hate the beach because being there in a wheelchair is no fun. But being there in the Omeo, doing donuts and figure eights in the sand, it was just so much fun. And people loved to see it too!"
Favorite adventure with his Omeo: Hitting Daytona Beach with his Omeo and experiencing the joy of flying through the sand will always be a top experience,  but sometimes, it is just the little things that are the most fun, like taking an evening ride to the grocery store for a bottle of wine. 
Meet Dana Masse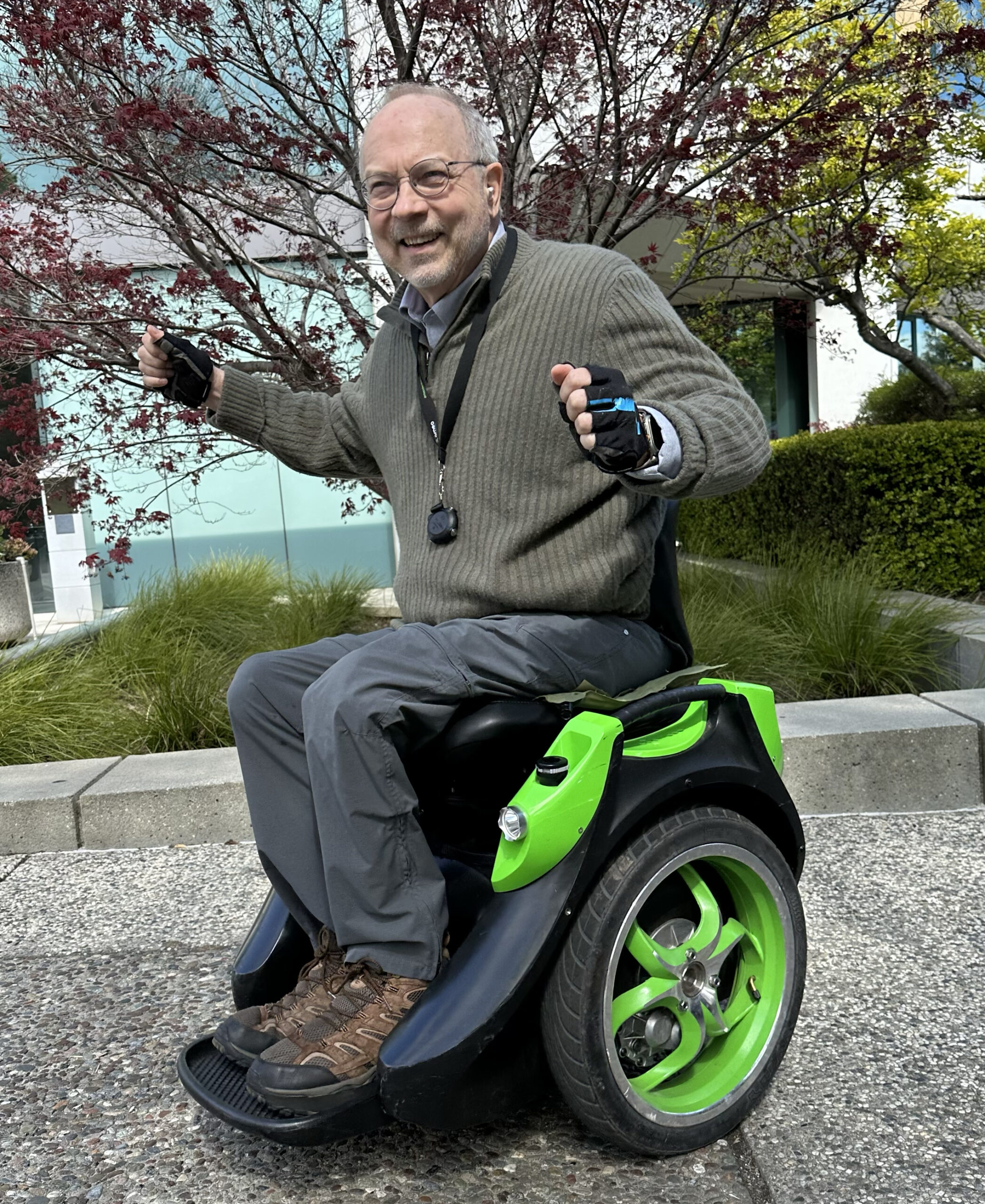 "There is nothing like the experience of moving your body with the Omeo – it becomes a first-order exoskeleton. It really moves like an extension of your body."
Dana has an incredible story. An electrical engineer with an extensive understanding of electrical design architecture and control theory which makes his appreciation for the Omeo a joy to hear. He understands how it works on a level most can't, and we want to share some of his thoughts about what makes the Omeo such a great experience! 
"What makes the Omeo powerful is how the design keeps the leaning movement that comes with gyroscope technology. Most chairs that used a seated segway as the base used a tiller to steer. It's a shame, really. Using a joystick or tiller has nothing to do with the experience of leaning your body back and forth or side to side to move. The lean steering is a different game. It's transformative. It gives you a sense of motion you can't get in other chair experiences. Riding the Omeo is hard to explain – how do you explain the feeling of riding on a rollercoaster without experiencing it? There is evidence that we rewire our brains when we use responsive technology. I think that's true; I am convinced of it – I become one with my Omeo." 
Dana survived polo as a young child and, as such, has experienced some loss of mobility as he has gotten older, primarily in one leg. Remaining active is important to Dana, so the Omeo, along with daily swimming and other activities, ensures that he is keeping up the high-paced life he is accustomed to! With his work as an audio architect, most of his career has been supporting Apple products, so you could say Dana has his fingerprints on almost every Apple product on the market, specifically in the audio components! The Omeo has allowed him to move quickly and freely around Apple Park (which is huge if you've never seen it!). 
Favorite adventure with his Omeo: Taking the Omeo around San Francisco while there to celebrate the life of a dear friend. It was so much fun to explore the city with ease.
Meet David Charbonnet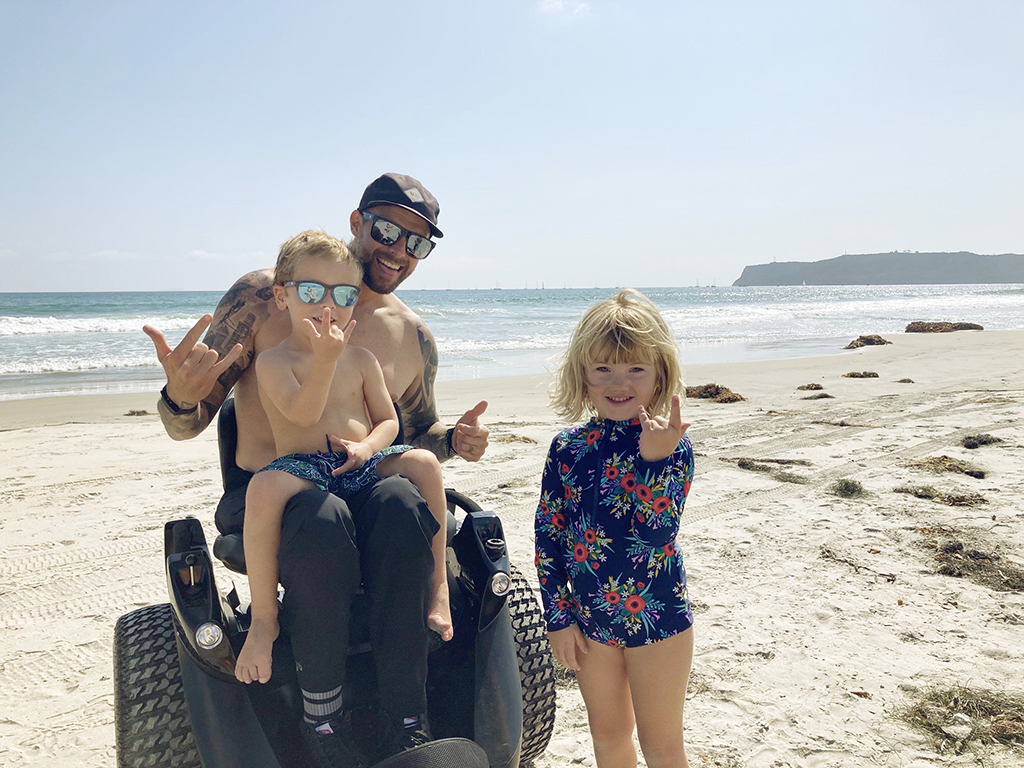 "The Omeo opens a whole new world to someone in a wheelchair. For me, the beach was off-limits until getting one. Now I can enjoy that activity with my wife and kids."
David Chabonnet knew what he wanted to do from a young age, and when it came to being a Navy Seal, he was all in. He was made for this. But just about a year after his appointment, a parachuting accident left David paralyzed from the waist down. After his accident, David received treatment at VIP NeuroRehabilitation Center in San Diego, where he now serves on a volunteer basis as President and CEO. His clinic is a 501c Nonprofit that provides free and reduced-cost care for those who have experienced brain or spinal cord injury and other debilitating conditions like stroke, multiple sclerosis, and cerebral palsy. 
The Omeo is primarily a recreational vehicle for David, using it to get out to the beach on the weekends with his family. In fact, he keeps his off-road tire kit in his truck, so he's always ready for an adventure when the opportunity arises! 
Favorite adventure in his Omeo: It will never not be the beach! There is no place more fun to be when you live in San Diego than playing with your children in the sand and salt air.
Meet BillyRay Pearce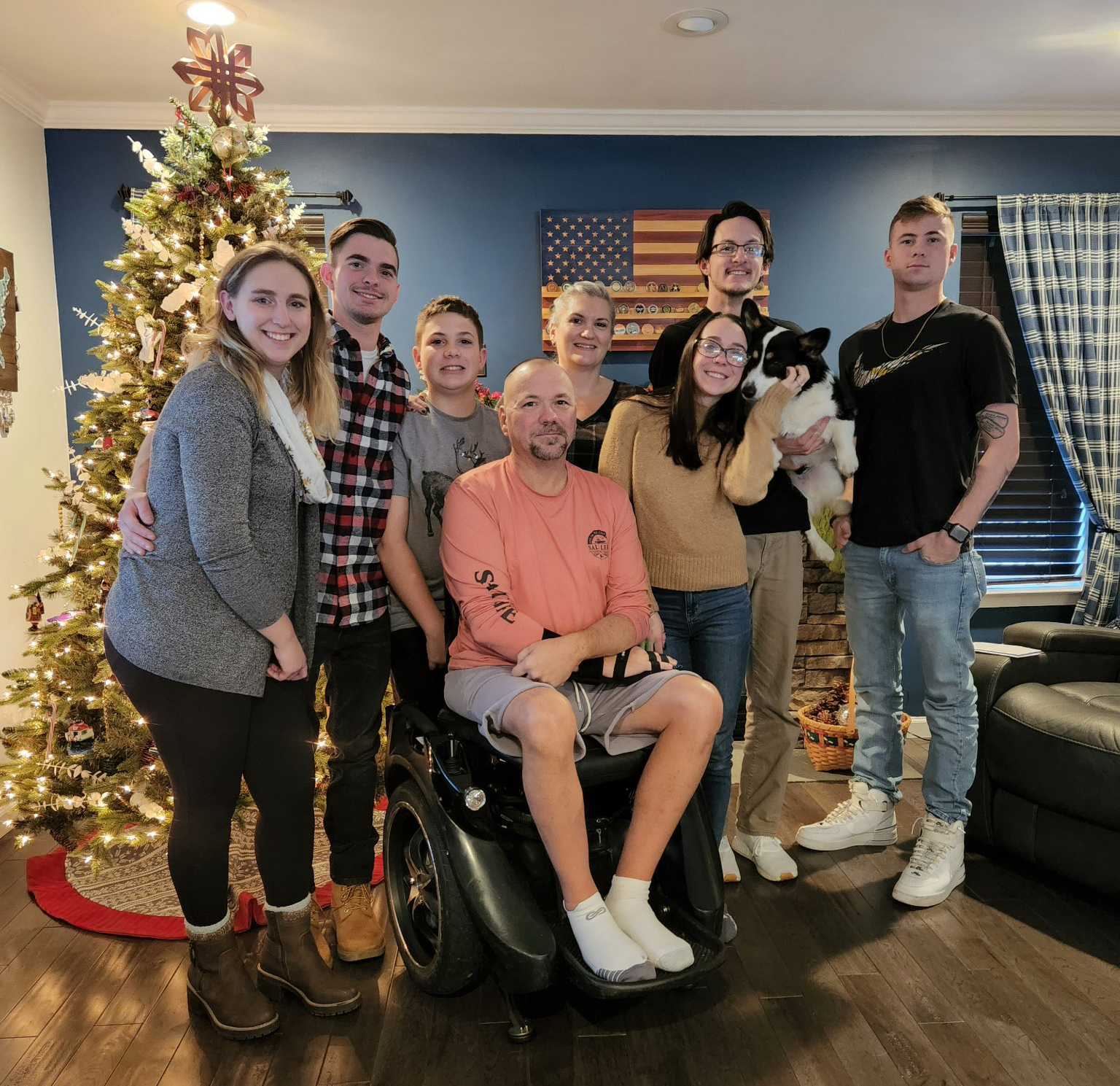 "This device has changed everything, from going to the beach to being with my family, I have my independence back." 
A disabled Navy veteran, BillyRay found himself looking at Omeo back when it was still called the Ogo. He started following Omeo Mike on Facebook, who connected him with the Gary Sinise Foundation. The foundation was quick to say yes, and he has been using his ever since. 
BillyRay shared that his VA doctors love his Omeo and would like to see more veterans on them. He credits the Omeo for fast-tracking his Physical Therapy after his stroke due to the active engagement of his core muscles as well as his mind when operating the chair. He is a huge proponent of the improved quality of life that comes from having an Omeo. It isn't just quality of life for him, though; he is quick to point out that it has improved his wife Christine's quality of life as well. Due to a stroke that was caused as a result of complications that arrived from his paraplegia, paralysis on his left side left him unable to navigate a traditional wheelchair. Christine felt tremendous concern about leaving him alone for any extended period of time because of worry that he wouldn't be able to access his needs without support. The Omeo has given him back his independence and allowed Christine to leave the house, knowing that BillyRay can take care of what he needs in her absence. 
BillyRay is a positive light in the life of everyone who knows him. His catchphrase is, "It will be okay!" He knows that no matter what, there is always someone out there who is dealing with more than he is. It doesn't change that his situation is hard, but he knows that with the love and support of his family, then he can handle just about anything! 
Favorite adventure with his Omeo: Hands down, the beach. BillyRay loves anything to do with the water (he's a Navy man, after all!), but being able to get out there and feel the ocean spray – there's nothing like it!
Meet Tricia Downing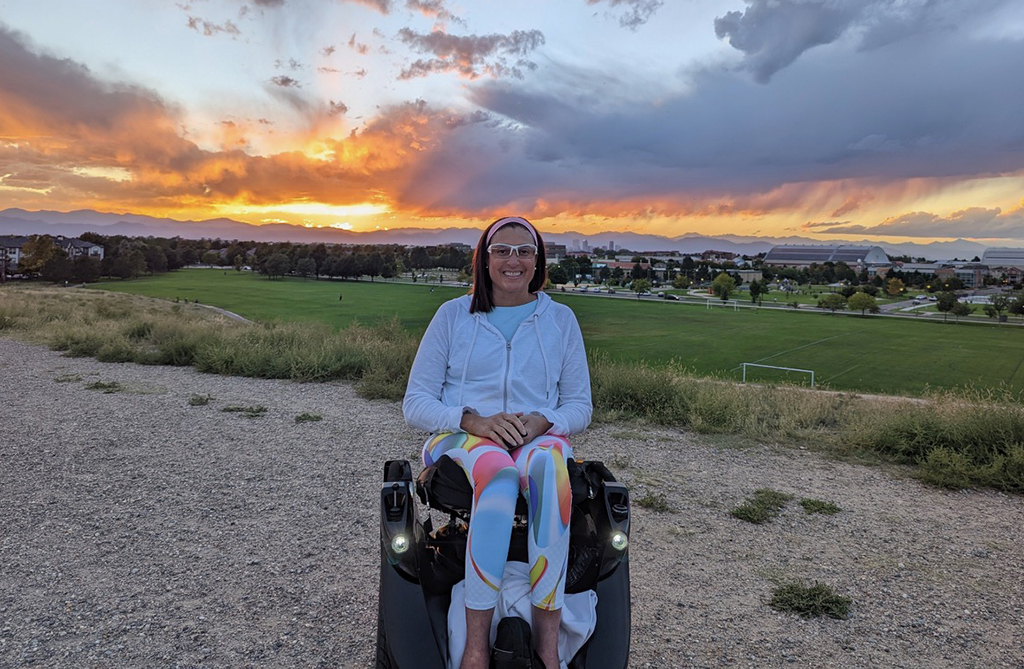 "I love it. I am glad I took the risk of getting a loan to have my Omeo. When you manifest, things come more quickly than expected. Speaking engagements and a generous donor allowed me to pay off the Omeo in under a year."
Twenty-three years ago, while training to make a mark on the cycling world, she was left paralyzed when a car turned directly into her path. As a lifelong athlete and competitive cyclist, this injury was a devastating detour from her life's plans.  Yet, Tricia's resilience is evident as she resumed her training, entering the racing world as a hand-cyclist and competing in triathlons around the world. Tricia is also the author of two books and is active as a keynote speaker, disability advocate, and diversity educator. In short, she is a powerful force in our community! 
About 18 months ago, Tricia was introduced to the Omeo by our very own Gretchen Nowling. Tricia was intrigued, but as with every piece of adaptive equipment, choosing the Omeo for her needs was based on how she would use it. She strongly advocates selecting devices that will best suit an individual's needs, and for Tricia and her husband Steve, it was all about the outdoors lifestyle. The Omeo has opened the door to doing things they enjoy together. He rides an e-bike, and the Omeo allows them to keep up with each other on trail rides. Some of the things they have done that they weren't able to do before are walking to restaurants about a mile from home and running simple errands like returning a book to the library. These outings are both fun and reduce their carbon footprint, which is an added benefit to having an electric chair. Last summer, they took advantage of having the Omoe to enjoy time together, exploring restaurants around their neighborhood. Being in Denver, which does have quite a few wheelchair-accessible trails, they found they could now take hikes on trails that aren't necessarily wheelchair accessible, letting them explore more of Denver's outdoors together. 
The Omeo has allowed Tricia ways to connect with her spouse, who doesn't have a disability, by providing ways to keep up with each other and have fun together. Because Tricia didn't want to give up what exercise she gets while using her everyday chair and still has full use of her arms and hands, Omeo serves as a recreational vehicle for her needs. 
Favorite adventure on her Omeo: Going to Maui and being able to walk from the resort to the restaurants they enjoy, even though they were a mile or two away and over hilly terrain. 
Meet Mike Anderson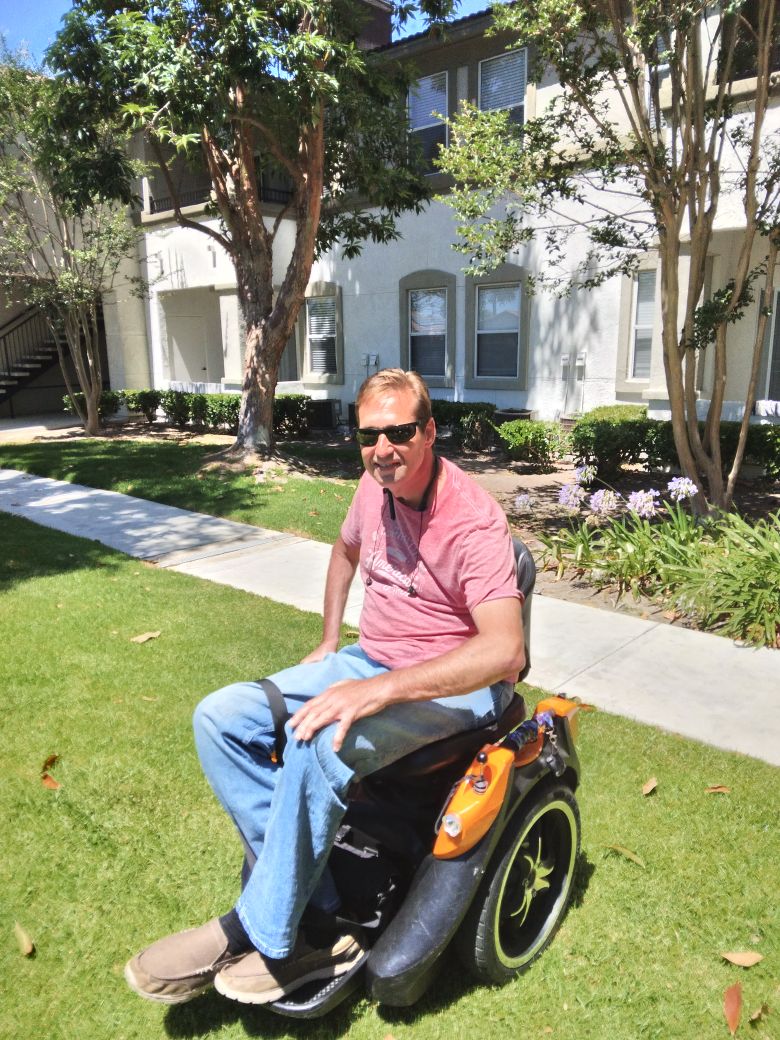 "Living just 7 miles from the ocean, the Omeo is fantastic for hitting the bike trails leading to the harbor for a weekend adventure!"
Mike is a father, 3-D modeler, and chronic adventurer. For Mike, there is nothing more fun than to get the Omeo to explore his hometown of Oceanside, California. Due to a car accident when he was 20 years old, Mike spent 32 years with quadriplegia, so finding the Omeo that gave him the freedom to move fast has been life-changing. Some of Mike's favorite experiences include taking his Omeo to the skate park and zipping along the half-pikes while his son shreds it up around the course. 
The best part about the Omeo for Mike is that it requires him to be mentally and physically active when he's out for a ride. He likens the experience as similar to navigating a motorcycle and the skills it takes to engage with his surrounding in a safe and meaningful way while still enjoying the feeling of freedom that comes with the wind in your hair and exploring new spaces. 
Favorite adventure with his Omeo: Mike has taken his Omeo on the bus, the Sprinter train down to Downtown Oceanside, as well a longer train ride to San Diego. He loves seeing and visiting new places and is delighted with how easy the Omeo is to travel. 
Meet Tom Maneely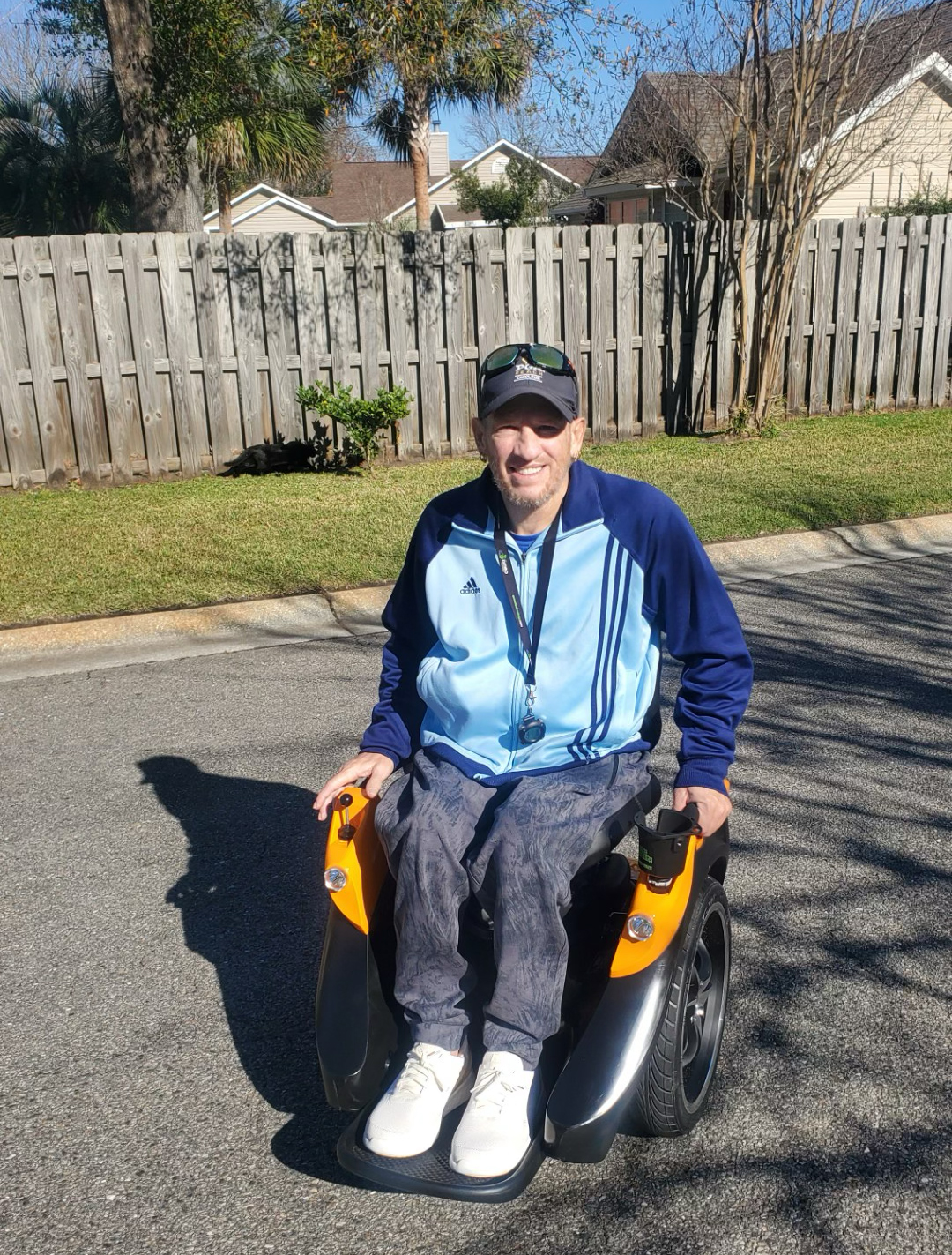 "The best part of being out in the Omeo is the expression on people's faces when I pass them!" 
Tom loves a wow factor, and when it comes to the Omeo, it's definitely one of his favorite features. As a Marine Veteran going hard is just part of who he is – once a Marine, always a Marine! He has been in a chair for over 30 years, but it hasn't stopped him from going after the things that he loves. In fact, it may have pushed him harder to pursue the sports and activities that he loves. 
An active golfer, Tom uses a Paragolfer to help him maintain a more traditional golf swing. His love of golfing has led him to be active in the PGA HOPE project, which aims to support patriots by using sports to positively impact their mental health, social opportunities, and physical well-being. For Tom, seeing homeless veterans find themselves again through the sport of golf has been one of the most rewarding experiences to come out of playing golf. 
In addition to golfing, Tom is also a competitive rifleman, competing around the country. He got his Omeo to help him move more freely and without assistance at these competitions. These days Tom is traveling the country in his converted van, along with his Omoe and Paragolfer, doing what he loves – being competitive outdoors with his fellow veterans. 
Favorite adventure with his Omeo: Hitting Myrtle Beach with 3 other Omeo users and just flying along the sand together. There is something particularly fun about using the Omeo with others, racing along, and pushing it to its limits. 
Meet Kevin Simons (A.K.A. Biscuit)
"This baby turns on a dime!" 
An upstate New Yorker born and raised, Buscuit is an avid boating enthusiast. His favorite adventure with his Omeo is going to Thousand Islands for fishing trips. He says that the hardest part of having a disability is giving up things he loves, but the Omeo has brought back the joy he has being outdoors with people. These days most of those outdoor adventures are closer to home, frequenting Lake Ontario for fishing day trips. Due to multiple strokes, Biscuit prefers to use the joystick for added control when operating his Omeo.
A veteran of the US Navy (where he earned that distinctive nickname!), Biscuit received his Omeo through the help of the Gary Sinise Foundation. Over the last year of owning it, he finds himself out most evenings when the weather is nice, cruising up the street to say hello to his neighbors. It's the simple things in life that Omeo has brought the most joy to. 
Favorite adventure with his Omeo: Just being outdoors –  whether seeing friends or a lazy day of fishing, being outside is where it's at! 
Meet Seth Canon
"I am joyful, and that's partly due to the Omeo. It just makes my life so much easier!" 
Seth and his brother Ben, both dealing with Muscular Dystrophy from their early childhood, formed a company to help others who are navigating the loss of mobility find the best mobility device for them. With engineering backgrounds in mechanical and electrical engineering, these brothers always use their skills to find the best machines that bring the most freedom. Seth took his entrepreneurial spirit further with a law degree, adding a patent attorney to his title as well.  Seth shared the following, "The Omeo has changed my life. As my disease progresses, the use of my legs has been affected. The Omeo has given me back my ability to keep going at the pace I am accustomed." Due to the nature of his disease, Seth falls frequently.  A mobility device such as the Omeo lets him move safely and confidently! From cleaning the house to doing yard work and having adventures with his kids, his Omeo has kept him going further! 
Favorite adventure with his Omeo: Going to the beach with his family and being able to move along the sand without assistance from his kids.